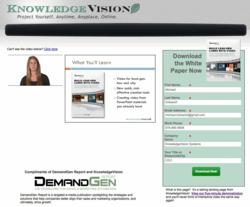 With KnowledgeVision's Talking Landing Page, web visitors are greeted with a multimedia experience that delivers the marketer's message with much higher impact.
San Francisco, California (PRWEB) August 30, 2011
KnowledgeVision Systems has begun showing the Talking Landing Page™, a powerful new multimedia lead-generation approach on the web for business-to-business marketers. Through the Talking Landing Page, marketers can use the engaging new medium of online video presentations to engage and capture potential sales leads.
The Talking Landing Page makes its public debut at this week's Dreamforce conference in San Francisco, a major convocation of marketing and sales professionals hosted by Salesforce.com. KnowledgeVision is a sponsor and exhibitor at the Dreamforce conference.
"Business-to-business marketers are constantly looking for high-performing ways to convert web visitors into leads," said Michael Kolowich (Twitter, LinkedIn), CEO and founder of KnowledgeVision. "Until now, they've done this through good copywriting and illustration on 'landing pages' – that is, static pages designed to capture vital contact information from visitors to a website. With KnowledgeVision's Talking Landing Page, web visitors are greeted with a multimedia experience that delivers the marketer's message with much higher impact. This leads to higher conversion rates and a more memorable experience. The Talking Landing Page is a distinct competitive advantage for innovative marketers."
KnowledgeVision has made it easy to create Talking Landing Pages on any of the most popular CRM and marketing automation platforms, such as Salesforce.com, Marketo, Eloqua, Pardot and HubSpot. All that's required is a subscription to KnowledgeVision's easy-to-use online presentation creation tool, KVStudio, which is available in three editions, starting at as little as $195 per month.
KVStudio helps marketers quickly create interactive web messages using video, PowerPoint slides, and other media such as Flash animations and even live web pages. KVStudio requires no special equipment, and all of the media is stored and delivered online, "in the cloud."
Click here to view an example of a Talking Landing Page.
"KnowledgeVision has created a universal multimedia lead-generation solution that fits comfortably within just about any lead-capture environment," said Kolowich. "In just minutes and with no special skills, marketers can create multimedia objects that can be placed on most landing pages. KnowledgeVision's quick, easy production method encourages marketers to create and test multiple approaches to find just the right way to deliver high-conversion messages."
KnowledgeVision is showing Talking Landing Pages at its Dreamforce booth (#38), and on the web at http://www.knowledgevision.com/talkinglandingpage. The company is also offering an extended KVStudio free-trial opportunity to qualified marketing professionals who visit KnowledgeVision at Dreamforce, or who call KnowledgeVision sales by September 10 at (855) 587-8834.
About KnowledgeVision
Based in Concord, Massachusetts, KnowledgeVision Systems serves the world's growing need for on-demand and live knowledge by creating rich, engaging presentations that synchronize video or audio, PowerPoint and other images, just-in-time footnotes, and virtual handouts into interactive presentation experiences. These are viewable on the web at any time with any type of computer. KnowledgeVision is the world's most powerful and flexible online presentation platform. KnowledgeVision presentations are used in the Americas, Europe and Asia for sales and marketing, training and professional development, and communications with customers, employees and investors.
"Talking Landing Page" is a trademark of KnowledgeVision Systems Incorporated.
###