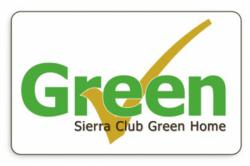 Boise, ID (PRWEB) August 30, 2011
The Healthy House Institute (HHI) and Sierra Club Green Home (SCGH) are collaborating to help consumers find greener, healthier product and service providers by co-promoting the SCGH GreenCheck program.
"GreenCheck is not a certification program, but aims to help consumers identify businesses and products that are healthier and more sustainable by requesting some very fundamental information about how those providers do business," said Allen Rathey, President of HHI.
"The GreenCheck process enables us at Sierra Club Green Home to ask providers and retailers about their green credentials, and also taps feedback from end-users to determine ongoing qualification for the GreenCheck recognition," said Jennifer Schwab, CEO of SCGH.
The SCGH GreenCheck program vets providers in at least 8 major areas:
1. Indoor air quality impact
2. Energy usage
3. Water usage
4. Material usage
5. Waste
6. Customer education
7. Health
8. Business practices
HHI will promote the program on its website and through joint press. On the HHI site, a Green Directory search box will enable consumers to search for providers in their geographic area as well as online.
"We are pleased to support this program associated with the Sierra Club brand, and hope this national outreach will embrace all providers making sincere efforts to become greener and healthier," said Rathey. "It's a way for companies to be recognized for their endeavors to advance health and sustainability in their operations, and a way for consumers to connect with them through the SCGH and HHI websites."
For more information about GreenCheck, visit http://www.sierraclubgreenhome.com/scgh-greencheck.
###