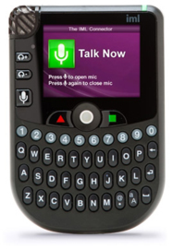 Minneapolis, MN (PRWEB) August 30, 2011
IML, a worldwide provider of interactive event technology and audience response systems, was named among three finalists in the category of Best New Product by BizBash Chicago for its product the IML Connector. On Aug. 18, IML stood out among the competition as the IML Connector received the Best New Product Award at the BizBash Event Style Awards, which were held at Merchandise Mart in Chicago. BizBash Chicago is an annual expo and awards trade show that offers education sessions, entertainment and exhibits to thousands of meeting and event planning professionals interested in new developments in the event industry.
"The BizBash Event Style Awards are known in our industry for recognizing the very best brands for their creativity and innovation," said Shelley Brown, director of business development for IML's central region, who accepted the award on behalf of IML.
"We are thrilled by the recognition – it is a great testament to how progressive the IML Connector truly is."
The IML Connector is an all-in-one interactive meeting tool. Designed to make meetings more efficient and effective, this device features a high-quality microphone, built-in speaker, full text keyboard, advanced voting solutions, color screen and individual data tracking. Other technologies IML offers include the IML Click, IML Communicator, IML Enotes and IML Silent Auction.
In addition to attending trade shows like BizBash, IML hosts events to demonstrate how their products and services can help organizations engage with attendees during conferences, meetings and events. The company is hosting a free workshop on Sept. 14 at its New York office on the IML Connector. The workshop will give meeting and event planners insight into the latest in event technology with practical applications and innovative ideas to make meetings more dynamic, efficient and memorable.
About IML
IML (http://www.imleventtechnology.com) provides event technology that helps maximize the success of meetings, conferences, silent auctions, fundraisers and other events. IML develops its own event technology solutions with an in-house research and development team focused on building systems to improve interaction at live gatherings through the use of interactive event technology. IML caters its services to events of all scales, from ten-person board meetings to gala audiences of thousands. IML technology is 100% accurate, secure and reliable. The company's blog, IML Meetings and Events Blog (http://www.imleventtechnology.com/meetingsandeventsblog), discusses using technology to make meetings more fun, effective and relevant. The company's second blog, IML Fundraising Blog (http://www.purplecarpeteventblog.com), provides inspiration and best practice information for fundraising and auctions. IML is located at 800 Lasalle Avenue #107, Minneapolis, Minn. 55402.
# # #