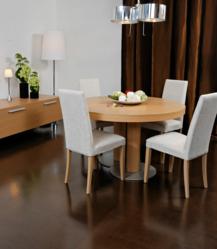 Cork is a great product and the customer service that Flooring Store Online made me comfortable purchasing with a online company. Super easy to install and I was able to finish my installation in one day
Denver, CO (PRWEB) August 31, 2011
Flooring Store Online (flooringstoreonline.com) has been selected by APC Cork to sell its full line of cork products in North America. Customers can now order APC Cork floating floors and cork glue down tiles at a competitive price with a life time warranty and have it shipped directly to them.
"APC Cork is one of the top cork flooring manufactures and we are thrilled to offer their product line to our customers. Cork is a inexpensive and a eco-friendly option to traditional flooring with the added benefit of it being comfortable underfoot and extremely soundproof" says CEO John Countryman.
This product comes in a tremendous variety of colors and patterns. While it may feel as solid as hardwood flooring, cork flooring is actually very absorbent and takes away a lot of the stress on your feet and knees as you walk. For this reason, floors are often used in places such as museums where people are walking and on their feet all day. Another benefit of this sustainable flooring is that it is so resilient that you can drop of glass on it and the glass won't break. This extra cushioning is a plus when you have small active kids or elderly who are prone to falling and may make the difference between a broken bone or just bruising themselves.
"Cork flooring has so many natural benefits it's hard to deny that it is a more-than-suitable alternative to traditional flooring," says Flooring Store Online CEO John Countryman. "From its soundproofing qualities to its earth preserving harvesting, it absolutely seems to be one of the top choices in eco-friendly flooring that you can find."
Green homes are all the rage these days with everyone being so focused on preserving the environment that people forget that eco-friendly products can be expensive. With cork tiles starting at $2.79 square foot and so easy to install for any DIYer APC Cork is a inexpensive way to make a difference and have floor that you will enjoy for many years.
"The added benefit of purchasing a cork floating floor is that you can save up to $3.00 square foot a installer would charge you for installation. It so easy to install you can complete a room in a single afternoon" says John Countryman.
About Flooring Store Online
Flooring Store Online features a full line of flooring products that include cork flooring, laminates, hardwood, bamboo floors, natural stone tiles and area rugs. This innovative flooring company offers a wide selection of quality products from APC Cork, Grass Elements, Floorage, Agora Surfaces and Quickstyle Laminates as well as underlayments, wood trims and adhesives. Flooring Store Online provides dedicated customer service backed with a thorough knowledge of its products to help the customer select the best flooring for their lifestyle.
###