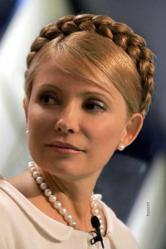 the implications for this go far beyond the fate of one person. Ultimately, what is at stake is the future of freedom and democracy in Ukraine.
(PRWEB) August 30, 2011
Sergiy Sobolev, who has become one of the leading forces in the newly formed Coalition Against Authoritarianism (composed of democratic opposition parties unified in their fight against what they perceive to be the potential threat of a lasting authoritarian regime that Yankovych is solidifying in Ukraine), has unified opposition groups around the predicament of former Prime Minister Yulia Tymoshenko and her trial. In a new video interview with Democracy4us.org, Shubalev tells a story of oligarchs with a deep desire for revenge and boundless greed, who have purchased the political favour of President Yankovych, himself a 2-time convicted felon. According to Shubalev, there is no longer any significant free press, the public in general has been coerced, bribed, and scared by the Yankovych regime, rule of law has all but vanished, and the country is on the brink of full-scale neo-totalitarianism. He is also worried that if the country loses its democratic institutions entirely, it will be the last significant Soviet state to have fallen under total authoritarian control.
Sobolev says he and his coalition of opposition parties are trying to do something about this. ''We want to show the world that the Yulia Tymoshenko case as the most blatant insult to democratic values that has likely ever occurred in what is meant to be a part of Europe. We want to prepare for parliamentary elections in the fall and win. We want new presidential elections this year." The opposition has also demanded the immediate resignation of the Kiev city council, and the release of Yulia Tymoshenko and all political prisoners, most of whom were her supporters and detained for similar reasons. These and other demands were voiced two days after the interview at an Independence Day rally where the 5,000 or so who people showed to express their support were greeted with droves of heavily armed security forces and barricades. The fight has only just begun, and it is not certain that Shubalev will get what he wants, should he himself escape political arrest. When asked if the objectives he listed amounted to nothing less than a revolution, he answered philosophically, "There can be no revolution without evolution."
Local and world leaders, governments and NGOs have stepped up expressing their concern about the trial and its larger ramifications. Among vocal critics of Yankovych's actions are the US, Canadian, German, French, Visogard, Australian, and, Russian governments, as well as the EU, which Ukraine is eager to join. Some experts, like David J. Kramer from the Washington freedom watchdog, Freedom House, expressed "outrage" and downgraded the country from ''free'' to ''partially free'', labelling the proceedings as ''spurious''. The President of the European Peoples' Party, Wilfied Martens,called ''the motive [here that] of returning to Soviet-style authoritarianism,'' and called on Yankovych to put an end to this ''sham.'' Washington Republican Senator John McCain added that ''the implications for this go far beyond the fate of one person. Ultimately, what is at stake is the future of freedom and democracy in Ukraine.'' However, news of what could be shaping up as a new Cold War has so far ceased to mobilize the international public at large or convince institutions it to take direct action.
Still, Ukrainian leaders like Sobolov, minister to the Coalition to Join the European Union Boris Tarasuk, renowned academic Miroslav Popovich, boxer come politician Vitaly Klitschko, and most Ukranian citizens interviewed by democracy4us.org, in addition to Yulia Tymoshenko herself, have strongly urged for the world community to take a much stronger and quicker stance, welcoming its assistance in helping to create a real and lasting democracy. Tymoshenko, in a letter from jail, hoped the international intervention would serve as a ''Reassurance'' to the people and that the country absolutely need to move on from the current predicament. Even the harshest and most skeptical critics, including the last working non-censored television news anchor, Vitaly Portfinov, who predicts the further demise of the country for another 25 years, admits that Western intervention might be the only way to stop this, although he, and many people, doubt the West's true commitment to the region.
In an open letter published today, renowned Czech Republic resistance leader and the Czech Republic 's first elected President, Vaclav Havel, warns the EU harshly that, should not offenses committed by Yankovych, including the consolidation of power around the President's office, un-relenting corruption, increased activity among security forces, allowance of oligarchic rule, blockage of press freedoms and physical attacks on members of the media, and purposeful exacerbation of a weak civil society be remedied, this should be enough to convince the organization, and the West, that it is time to take on a ''far more active policy towards Ukraine''.
Sobolev, and those fighting for their democratic freedoms, will likely appreciate Havel's words, as will Tymoshenko, who is spending her second independence day sitting in a prison cell.
About Democracy4Us.Org - An independent organization, which has been formed in support of, and with the cooperation of, former Ukrainian Prime Minister Yulia Tymoshenko with a goal of efficiently spreading information as broadly as possible about the circumstances she and the Ukraine currently face.
###