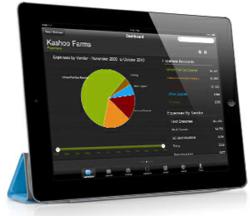 In Kashoo for the iPad, we have created a tool that has the power to transform how small businesses operate--and thrive.
Vancouver, Canada (PRWEB UK) 31 August 2011
Kashoo, Inc., publisher of online accounting software for small businesses and freelancers, today announced the UK availability of Kashoo Accounting--the first free full-featured, stand-alone accounting app built specifically for the iPad. Kashoo is also available for download in 105 other iTunes App Stores around the world.
Kashoo's iPad accounting app gives small businesses and entrepreneurs the flexibility to manage all aspects of their finances on the go, including monitoring key business metrics, creating and delivering invoices, recording expenses, tracking payments, and generating financial reports. All Kashoo iPad app activity is secure and reliable, and is integrated with Kashoo's online accounting system, currently in use by thousands of businesses worldwide.
With thousands of businesses launched worldwide every day in a global economy dependent on small businesses for recovery and growth and millions of entrepreneurs relying on the iPad as a powerful business tool, the need for an iPad accounting app designed specifically for this market has never been greater.
According to Kashoo CEO Jim Secord, "One of the challenges in operating a successful business is making time to properly look after the finances. People tend to procrastinate when it comes to managing money. Many find accounting too intimidating or put off the painstaking task of bookkeeping. With Kashoo, we make bookkeeping easy and with our new iPad app, business owners can take care of important tasks like sending an invoice, or entering an expense, or checking an account balance immediately wherever they are. We have created a tool that has the power to transform how small businesses operate--and thrive."
Kashoo harnesses the power of iOS, Apple's mobile operating system, merging the convenience of iPad mobility and the peace-of-mind of Cloud back-up, sync, and sharing. Also, the Kashoo iPad app lets small business owners focus on running their business, not painful accounting processes.
Following a comprehensive development process that included extensive beta testing, small business owners now—finally—have an accounting and bookkeeping iPad tool that is reliable, trustworthy, and easy to use. To try it for yourself, please visit https://www.kashoo.com/ipad-accounting-app/
For more information, visit http://www.Kashoo.com.
About Kashoo
Founded in 2008, Kashoo, Inc. operates an online site (http://www.kashoo.com) and publishes a native iPad app for small businesses to manage their finances and accounting. At its core, Kashoo.com is a powerful yet affordable online accounting solution designed specifically for small business. Kashoo gives the business owner the power to collaborate in real-time with partners, stay on top of key metrics, and optimize business performance.
###