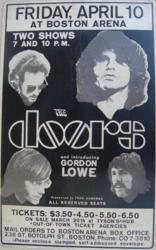 Denver, Colorado (PRWEB) September 07, 2011
Andrew Hawley, of Vintage Rock Posters, announces his plans to search for Jim Morrison and the Doors concert posters. According to Hawley, "I have always been fascinated by the Doors' music and style. My entry into this business 20 years ago centered around collecting Doors memorabilia. Jim Morrison was one of the greatest rock performers of all time. His looks, stage presence and those tight leather pants are now a standard for many rock n' roll performers. The Door's music exemplified the spirit of the 1960s. Doors posters are some of the most beautiful rock concert posters ever printed and are highly sought after by concert poster collectors."
It seems like every Doors concert poster has a story behind it. One of Hawley's favorite Doors rock concert posters is for the Boston Arena show held on April 10. 1970. According to Hawley, "The Doors did not know that was would be their final time playing the Boston Area. The Boston concert was after "Miami incident" where Jim Morrison was accused of indecent exposure and use of public profanity at The Dinner Key Auditorium in Miami. They were scheduled to play in Salt Lake City the following night but due to the Miami incident the Doors were put under intense scrutiny. The promoters of the Salt Lake show flew into Boston to watch The Doors. They wanted to determine whether they to take their chances on the group the following night. During the Boston show, the band played tight but Morrison was drunk. The concert was shut down during the second act after the power was shut off. The fellows from Salt Lake had seen enough and the Doors show was canceled the next day."
Hawley adds, "The Doors Boston concert was filmed land released a few years ago on CD by Elektra records. It is a raw performance and in many instances Morrison can be heard conversing with the crowd. The poster that advertised the Boston show is extremely unique because the artist strayed from the usual psychedelic style of the 1960's and reverted back to the old 1950's boxing style format. The poster uses a very simple black and white layout and features a photo of one band member towards each corner. This is the only true Doors boxing style concert poster ever made."
Hawley will pay $3,000 for original vintage 1967 to 1970 Jim Morrison and the Doors concert posters. Any condition is accepted. Sellers will be paid in cash within 24 hours guaranteed. For more information, go to http://www.vintageconcertposterbuyer.com.
# # #