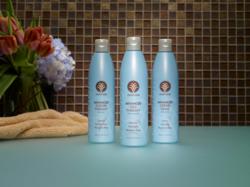 Our Advanced System is a more natural product because it does not contain parabens or sulfates
San Diego, CA (PRWEB) September 01, 2011
DC Labs is pleased to announce the launch of their advanced Ovation Cell Therapy line. The Advanced Cell Therapy System products contain enhanced ingredients for therapeutic levels of moisture and damage protection that also nourish the hair and scalp with proteins and amino acids that bind and absorb into the hair shaft, creating visibly healthier hair—thicker, stronger, longer.
"Our Advanced System is a more natural product because it does not contain parabens or sulfates. We changed the preservative system (removing parabens) and removed sulfates to further enhance the color support in our Color Therapy Shampoo," states Vice President of Sales, Carlee Cayton."All of our formulas include vitamins, antioxidants, plant extracts, and aromatherapy scents that blend and complement each other to provide the best results."
The Ovation Hair website at http://OvationHair.com provides more information about their products, as well as an easy order process. The Advanced Ovation Cell Therapy line boasts a solid reputation of quality and integrity, backing its claims with a full money back guarantee within the first year of purchase. Become a member and receive special discounts and offers on all Ovation Hair products.
About Ovation Hair:
Ovation products by DC Labs are quality hair care products that are proven to be safe and effective to create healthy hair and accelerate hair growth. Ovation Hair Care products are developed as a natural system designed to help hair grow thicker, stronger and longer.
# # #