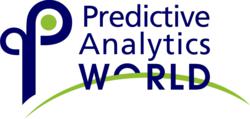 New York, NY (PRWEB) September 04, 2011
Predictive Analytics World (PAW) is the business-focused event for predictive analytics professionals, managers and commercial practitioners, regardless of skill level. These predictive modeling and analytics sessions, case studies, and workshops deliver the expertise and resources to establish new opportunities, strengthen the impact of your predictive analytics deployment and improve your marketing effectiveness.
PAW NYC 2011 features more than 40 sessions across 3 expertise levels and showcases real-life examples of deployed predictive analytics. Hear from hands-on professionals how Fortune 500 analytics competitors and other top practitioners deploy predictive modeling, and what kind of business impact it delivers.
Organizations are looking to predict how customers will respond in the future, and realizing their historical data is an untapped resource. Beyond standard business reports and sales forecasts, predictive analytics offers actionable predictions for each customer. These predictions deliver more relevant content to each customer, improving response rates, click rates, buying behavior, retention and overall profit. For online applications such as e-marketing and customer care recommendations, predictive analytics acts in real-time, dynamically selecting the ad, web content or cross-sell product each visitor is most likely to click on or respond to, according to that visitor's profile.
Author Thomas Davenport, President's Distinguished Professor at Babson College, Author, Competing on Analytics; David C. Gondek, Technical Lead, Watson Knowledge Capture, IBM Research; and Eric Siegel, Conference Program Chair, will keynote. Davenport will speak on Every Day Analytics: Making Leading Edge Commonplace; Gondek shares Building Watson - An Overview of the DeepQA Project; and Siegel presents Persuasion by the Numbers: Optimize Marketing Influence by Predicting It.
Special workshops on a variety of topics offer a deep dive into areas that may benefit your company. Workshop sessions include Deploying User-Friendly Predictive Analytics (Jeff Mergler, TIBCO Spotfire), Driving Enterprise Decisions with Business Analytics (James Taylor, Decision Management Solutions), Hands-On Business Analytics: Insights to Impact and Predictive Analytics: Fundamentals and Use Cases (Piyanka Jain & Puneet Sharma, PayPal), Modeling Methods: The Best and the Worst of Predictive Analytics (John Elder, Ph.D., Elder Research), Hands-On Text Analytics with IBM (Tim Daciuk, IBM), Hands-On Predictive Analytics with SAS Enterprise Miner (Dean Abbott, Abbott Analytics), R Bootcamp: For Newcomers to R and R for Predictive Modeling: A Hands-On Introduction (Max Kuhn, Pfizer).
Predictive Analytics World is part of Data Driven Business Week, which includes the Marketing Optimization Summit, Text Analytics World, Conversion Conference, GAUGE, and the Internet Marketing Conference.
Register today for Predictive Analytics World NYC and save $400 off full price.
Predictive Analytics World is supported by IBM, SAS, Deloitte, Sybase (an SAP Company), Teradata, StatSoft, Vertica (an HP Company), Mu Sigma, Oracle, Tibco, Salford Systems, InfoCentricity, KXEN, Yottamine Analytics, Zementis, International Institute for Analytics (IIA), Informs, AnalyticBridge, Customer Think, Improvement and Innovation.com, Predictive Analytics.org, Smart Data Collective, Toolbox.com, topseos and Visibility Magazine
About Rising Media
Rising Media is a global events producer excelling in Internet and technology-related conferences and exhibitions. Rising Media produced events include Data Driven Business Week, eMetrics Marketing Optimization Summit, Conversion Conference, GAUGE, Search Marketing Expo, Predictive Analytics World, Text Analytics World, Internet Marketing Conference, Social Media Economy Days, Web Effectiveness Conference and Building Business Capability in the US, Canada, UK, France, Germany, Sweden, Finland and Australia.
Rising Media events provide cutting-edge, practical knowledge for business professionals to improve their day-to-day effectiveness, driving higher returns for their organizations. Attendees learn from leading experts and share knowledge with each other, as well as interacting with innovative vendors in the space. Each event brings together the best, the brightest and the visionary, creating a forum for insight, energetic exchange and informed purchasing.
# # #