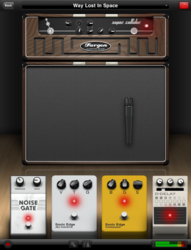 The team at Agile Partners has done an incredible job capturing the true tone of my amps and pedals. They were diligent in capturing the tone of the actual circuitry of the amps/cabinets and pedals.
-- Ben Fargen
Sacramento, CA (PRWEB) September 06, 2011
Fargen Amplification and Sonic Edge announced today that they have joined forces with Agile Partners, a leading developer of iOS guitar applications, to bring models of Fargen's distinctive tube amplifiers and Sonic Edge's pedals to AmpKit, the guitar amps, effects and recording app for the iPad, iPhone, and iPod touch. Modeled after the actual circuitry of the amps and pedals, AmpKit's simulations are faithful recreations of the innovative Ben Fargen-designed gear.
Three Fargen amps are available for purchase through the in-app Gear Store in the new AmpKit 1.2 release. The Fargen™ Olde 800™ faithfully brings iconic sounds from the 60s, 70s, and 80s into the present day with the amp's "Decade Switch." The Fargen™ Super Collider™ is a dual-channel creation coupling rich, full clean tones with enhanced sustain and high-gain overdrive. The Fargen™ Hot Mod™ Baby Blues starts with a stock Fender® Blues Junior™, and adds a useful Presence control, a revised and updated Fat switch, and a whole heap more gain to transform the baseline amp into a completely new device. The amp is paired in AmpKit with a 1x12 cabinet containing a Celestion G12 speaker, which provides enhanced tonal clarity, bite, and brightness.
Two of Ben Fargen's Sonic Edge pedals are also available in the new AmpKit 1.2 release. The J&J Overdrive adds brooding warmth and confident brightness, with its tone ranging from subtle sweetening to full-on tube crushing drive. The Tumbleweed incorporates clean boost with a snappy new compression model. The built-in boost has Brit, Cali, and Jazz modes for trans-Atlantic tonality plus a warm boost for jazz finger-picking players, while the compressor offers subtle sustain options. Both of these effects can be used in conjunction with one another or separately.
In addition to being available individually in the AmpKit Gear Store, all of the new Fargen and Sonic Edge gear is available at significant discounts as part of AmpKit 1.2's new Summer '11 Pack.
"We're thrilled to bring the great tone of Ben Fargen's tube amps and Sonic Edge pedals to iPhone and iPad users in AmpKit 1.2. Besides offering one of Fargen's main production amps, the wonderfully versatile Olde 800, we're fired-up to have a great-sounding Custom Shop amp in the Super Collider, as well as one of Ben's popular Hot Mods, in this case for the Fender Blues Junior," said Jack Ivers, principal at Agile Partners.
Besides new gear, the AmpKit 1.2 release features next-generation tone and simulation improvements - dual-stage amp simulation, convolution-based cabinet simulation, adaptive input compensation, a significantly upgraded Noise Gate, solo and mix output shaping - that deliver by far the best-sounding, most realistic guitar tone on iOS. AmpKit's in-app Gear Store offers the largest gear selection of any amps and effects app, including 19 amps with 35 separate amp channels, 22 effects pedals, 20 cabinets, 8 mics and more gear on the way.
AmpKit LiNK is a high fidelity guitar interface that connects an electric guitar or bass directly into the headphone jack of an iPhone, iPad or iPod touch. It is the ideal companion to AmpKit, enabling the app to reproduce the high-gain tone of amplifiers such as the Fargen™ Olde 800™. Together, AmpKit and AmpKit LiNK provide guitar and bass players with a powerful and convenient way to jam with high quality tones anytime and anywhere.
"The team at Agile Partners has done an incredible job capturing the true tone of my amps and pedals. They were diligent in capturing the tone of the actual circuitry of the amps/cabinets and pedals. As a boutique manufacturer, we're excited to be a major part AmpKit" said Ben Fargen, President of Fargen Amplification Inc. and Owner of Sonic Edge LLC.
About Fargen Amplification and Sonic Edge
Now in its fourteenth year, Fargen Amplification has progressed from a small, one-man operation into a thriving boutique company that ships world-class guitar amplifiers to discerning players across the globe. Benjamin Fargen also provides consulting design work as well as world tour amp support to many of the world's most celebrated guitarists. Ben founded Sonic Edge to focus on revolutionary guitar and bass effects and accessories, bringing reference-quality tone to players at an affordable price.
About Agile Partners
Agile Partners Technologies, LLC is a leading developer of applications for iPad, iPhone and iPod touch. Agile Partners' applications include the highly acclaimed GuitarToolkit and 2010 Apple Design Award winner TabToolkit. For more information, visit http://agilepartners.com.
Contacts:
Ben Fargen
Principal, Fargen Amps and Sonic Edge pedals
ben(at)fargenamps(dot)com
Jack Ivers
Principal, Agile Partners
jack(dot)ivers(at)agilepartners(dot)com
Fender is a Registered Trademark of, and Blues Junior is a Trademark of, the Fender Musical Instruments Corporation.
###