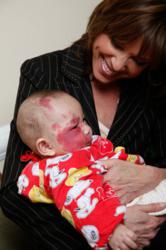 (PRWEB) September 06, 2011
The Hannah Storm Foundation, the Gerber Group and Herradura Tequila are pleased to announce, "Mixing it Up," a fundraising event that will take place at Stone Rose Lounge at the Time Warner Center in New York City, Tuesday, September 27, 2011 from 7:00-10:00 p.m. The event will feature celebrities from the sports and media world "mixing it up" with music, spirits, good eats, and a live auction.
Some of the celebrities confirmed include: Antonio Pierce, Avery Johnson, Chris Evert, Dan Hicks, Keyshawn Johnson, Marcellus Wiley, Janice Huff, Merril Hoge, Chris Mullen, Jalen Rose, Michelle Beadle, Bobby Valentine and Isiah Thomas. Miami Heat's own, DJ Irie, will provide music for the evening.
All proceeds from this celebrity fundraiser will benefit the Hannah Storm Foundation, which sponsors surgeries for children afflicted with vascular birthmarks and their related medical conditions, and advocates on behalf of these children and their families.
Other sponsors for the evening include Fieldpoint Private Bank & Trust, Vincent and Robert Andrews, Mitchells Family of Stores, and Civetta Cousins JV, LLC.
For more information on how to purchase tickets please visit the Hannah Storm Foundation website.
About the Hannah Storm Foundation
The Hannah Storm Foundation (HSF) was created in 2008 to raise awareness, fund treatment and provide educational information for children suffering from debilitating and disfiguring vascular birthmarks. Hannah's passion stems from being born with a port wine stain birthmark underneath her left eye. In 2011 HSF has funded multiple surgeries for children in the U.S. and Berlin, Germany. Past activities held by HSF include annual Advocacy Day events for families and patients: 2009 Advocacy Day was held at the Brookings Institute in Washington, D.C. and the 2010 Advocacy Day was held at Beth Israel Hospital in New York City; multiple fundraisers including a celebrity evening in 2010 held at Morton's in Stamford, CT, and working with the Waner Children's Vascular Anomaly Foundation to affect CPT codes used by insurance companies. HSF also funds the Hannah Storm Journalism Internship at Notre Dame. It was started in 2006 as an opportunity for current Notre Dame undergraduate students to gain practical experience while working in the Alumni Association's Communications and Marketing department.
About Stone Rose Lounge
Located on the fourth floor of the Time Warner Center and operated by the Gerber Group, Stone Rose Lounge provides its clientele with an atmosphere of stylish intimacy coupled with breathtaking views of Central Park. The lounge was created to echo the posh atmosphere of a classically timeless hotel lounge, fusing cutting edge interiors, exclusivity, signature cocktails and quality bites from Benchmarc Events by Marc Murphy. With DJ performances and special events, Stone Rose provides the ultimate nightlife experience. http://www.GerberBars.com
About Casa Herradura
Founded by Ambrosio Rosales and Aurelio Lopez, Casa Herradura is one of the oldest and most respected producers of tequila, which many believe delivers the world's highest quality, most authentic tequila experience because of the expertise and leadership it has developed since 1870.
Located and produced in the heart of Mexico's tequila region, in the tiny town of Amatitán, Jalisco, Tequila Herradura is 100 percent blue agave tequila carefully crafted using traditional methods, such as cooking the agave in clay ovens and fermenting naturally with wild yeast. This sophisticated process delivers a rich, smooth and unexpected taste that evokes memories of our agave fields.
Selected "Best Distillery of the Year" by Wine Enthusiast magazine in 2007, Tequila Herradura is all natural and estate bottled. For more information, please visit http://www.herradura.com.
# # #