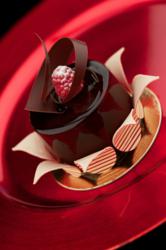 Charlotte, NC (PRWEB) September 06, 2011
The Ritz-Carlton, Charlotte will open its new Bar Cocoa on Friday, September 30, offering a sweet extension of The Lobby Lounge and a streetside location with daily access to hotel guests and the public. Bar Cocoa will present a sophisticated, all-new chocolate and cocoa experience, featuring food, beverages, retail, teas, dessert dinners and cooking classes centered around the irresistible taste, appeal and drama of chocolate.
Bar Cocoa's signature offerings will include daily Chocolate Afternoon Tea, a five-course weekly Chocolate and Champagne Dinner, hands-on culinary classes in the adjoining Cocoa Lab, retail selections including pastries from acclaimed Ritz-Carlton pastry chef Josh Cain and confections from chocolatier Norman Love, and a Chocolate Rehab package for this fall's overnight guests. Bar Cocoa will also be open for à la carte chocolate beverage and menu service, highlighted by pastries and other sweet delicacies, Monday through Thursday from 11 a.m. to 10 p.m., Friday and Saturday from 11 a.m. to midnight, and Sunday from 11 a.m. to 4 p.m.
Bar Cocoa's contemporary take on afternoon tea will be presented seven days a week from 11 a.m. to 3 p.m. and will feature six teas plus a signature chocolate tea and hot chocolate with house-made marshmallows. Priced at $32 per adult ($10 per child under 12) including valet parking, this uniquely modern tea will eschew the formal linens, intricate tabletops and hushed setting of traditional teas in favor of the vibe, energy and movement of the hotel's lively Lobby Lounge. With limited seating and a start date of Saturday, October 1st, Chocolate Afternoon Tea at Bar Cocoa will feature flavorful mini-sandwiches, white chocolate and orange scones, petits fours (opera-style, chocolate and salted caramel tart, chocolate mousse with house marshmallow, tiramisu on chocolate sponge), and the restaurant's signature "Bar "Cocoa -- layers of praline and gianduja cake, hazelnut dacquoise, chocolate mousse and milk chocolate Chantilly. A special beverage option for the experience is chocolate-mint truffle tea, featuring a blend of Rooibos herbal tea, chocolate cacao nibs and mint, while Bar Cocoa's signature hot chocolate beverage will be created with Valrhona Manjari Chocolate, using prized, delicate cocoa beans from Madagascar.
On October 8, Bar Cocoa will introduce its first weekly five-course Chocolate and Champagne Dinner, offered on Saturday evenings and priced at $125 per person. Reservations will be accepted up to three months in advance for this exclusive 7 to 10 p.m. all-dessert dining experience, which will be limited to parties of no more than four guests per table, and which will feature desserts created by Executive Chef Jon Farace and The Ritz-Carlton culinary team. Paired champagnes are set to include Perrier-Jouët Grand Brut, Veuve Clicquot Demi-Sec, Moët & Chandon Nectar Rose Imperial, Billecart-Salmon Brut Reserve, and Dom Ruinart.
Renowned chocolatier Norman Love will provide ultra-premium hand-made chocolates and confections for Bar Cocoa's retail offering, presenting flavors which are beloved in America and made with the finest chocolate ingredients from around the world. Creator of edible works of art with a focus on freshness and preservative-free preparation, Norman Love Confections was honored as one of the Top 10 Chocolatiers in North America in 2009 by Dessert Magazine, is co-founder of the National Pastry Team Championship and is a regular guest judge on the Food Network Challenge series.
Norman Love's retail confections will be complemented by an array of pastries available for purchase and created by Josh Cain, Pastry Chef for The Ritz-Carlton, Charlotte and widely known for his glamorous wedding cakes, holiday dessert buffets and sold-out pastry cooking classes. Cain is also the designer and creator of a five-foot-tall Madam Cocoa chocolate statue which will perch atop a pedestal in The Lobby Lounge's animated water feature, and which will beckon guests with an invitation to indulge their love for all things chocolate.
"Bar Cocoa has been in the works for a long time, and we are delighted to share this amazing new all-chocolate adventure with hotel guests and the local community," said David Rothwell, General Manager, The Ritz-Carlton, Charlotte. "The pleasures of chocolate and cocoa are irresistible, and we look forward not only to sharing them on a daily basis, but also to revealing our chefs' preparation secrets through a series of uniquely-chocolate cooking classes set to begin in October."
Dates for Bar Cocoa's 2011 cooking classes, to be presented in the hotel's Cocoa Lab, are October 15, October 29, November 5, November 12 and December 3. Priced at $75 per person, which includes parking and a keepsake apron, the hands-on classes for a maximum of eight students will be offered from 9 a.m. to noon and from 2 p.m. to 5 p.m. on Cocoa Lab's five scheduled instruction dates. For information and reservations, contact The Ritz-Carlton, Charlotte at 704-547-2244.
###