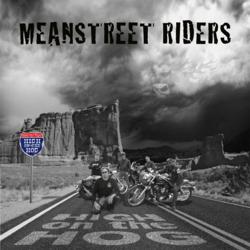 Los Angeles, CA (PRWEB) September 07, 2011
The embodiment of personal freedom – life, liberty and rock n' roll – is undoubtedly the MeanStreet Riders. With the release of their debut album "High on the Hog," on Sept 13th, these motorcycle riding, freedom-loving songwriters have turned their passion for the freedom and the open road into an album of Country-tinged, pure American rock n' roll. Accompanying the release of their album is a rockumentary short film documenting their inspired story.
The MeanStreet Riders were formed in 2008 by a group of Florida-based songwriters who shared a mutual passion for riding motorcycles and freedom. What started out as an adventurous ride through the southern United States, culminating at the "Dragon" an 11-mile stretch of road with 318 curves on the Tennessee /North Carolina border on US Highway 129. It was on this trip that Shannon Wallace, (guitars/vocals); Dowlin Mayfield, (guitars/vocals); Greg Torres, (keyboards/vocals); Eric Lampley, (bass/vocals); and Kevin LaCour, (drums/vocals) turned a motorcycle road trip into a life-changing musical journey that extends far beyond that legendary stretch of asphalt.
From the authentic, guitar-driven, Blues-Rock title track, High on the Hog that tells the tale of camaraderie and individuality – to the heartfelt ballad Rolling On which regales the rebellious spirit of the characters played Peter Fonda and Dennis Hopper in the classic motorcycle movie, "Easy Rider" – MeanStreet Riders' sound runs the gamut of American Rock, Country and Blues.
The Riders incorporate their own experiences on the road into their music. For example, I've Had a Good Ride is a harmony-rich song based on a return to the infamous Sturgis Motorcycle Rally held in Sturgis, South Dakota. The Country-tinged, acoustic track Where I Was Born tells the tale of a father sharing a ride with his two sons across rural America.
"The incredible growth of the motorcycle community in the past few years is the result of millions of people in the world wanting their freedom back and hitting the road to discover some great times, good friends and even themselves again," says Dowlin Mayfield. The "MeanStreet Riders speak to people from all walks of life to go somewhere they haven't been before and discover this great country and world."
This record is an album about family, friends, relationships and road trips; the American dream of freedom – and the pursuit of it. These bluesy rockers with a passion of personal freedom believe that, "life's too short for traffic-- so rock n' roll on the open road."
What they're saying…
Iron Works Magazine are giving the Riders a thumbs up for the album track by track with all 10 songs. Iron Works said "the Riders have created music that will "haunt your soul." "The boys have taken the feeling of riding and translated it to harmonies, strung chords, picked strings and driving compression". With Comparisons to Jackson Browne, Allman Brothers Band, ZZ Top and Shooter Jennings and saying its "Southern Rock Done Right!
http://iwblogger.com/2011/street-riders-southern-rock/%22%3eiwblogger.com/2011/street-riders-southern-rock/
The Riders are also getting another thumbs up from The Biker Hotline magazine The world's largest online magazine for Riders. Jack Lawford, the magazine's editor, says its "Foot Stompin' and it's an album that once it goes in your CD player, it ain't coming back out any time soon!" and "Guaranteed to have your feet keepin' the beat with a number of the songs, especially "I've Had a Good Ride", where the lyrics reflect many things bikers hold as a God-given right including the freedom to ride the open road in the company of their brothers."
http://www.bikerhotline.com/bookreviews/2011/11mstreet/
Harley Girl says The MeanStreet Riders sound a lot like the Eagles. I also heard a little Molly Hatchet influence and there was a bluesy Allman Brothers feel too. I would recommend this CD as a travel enhancement for your next ride since the songs are very motorcycle and riding related. It would also be a great CD to add into your next party music rotation. After listening to the CD multiple times I found myself singing along.
http://iowaharleygirl.blogspot.com/2011/06/high-on-hog-meanstreet-riders.html
For additional information please visit: http://www.MeanstreetRiders.com/
"Like" MeanStreet Riders on Facebook: http://www.facebook.com/MeanStreetRiders
Enjoy the MeanStreet Riders Video Rockumentary http://www.youtube.com/msmeanstreet
Follow MeanStreet Riders on twitter: http://twitter.com/MeanStreetRider
The Riders Spin Shop http://meanstreetriders.spinshop.com/
About BFM Digital, Inc.
BFM Digital is a global digital music company committed to serving the independent music community and delivering quality music, spoken word and video content to leading online retailers worldwide. Representing a diverse catalog of indie labels, artists and publishers, BFM distributes to all of the major music services including iTunes, Amazon, Rhapsody, eMusic, Napster, Walmart, Nokia and many more. With an unparalleled commitment to personalized service, BFM works closely with their content providers from around the world to ensure maximum exposure of their catalog by customizing marketing efforts and building strong relationships with BFM's digital store partners.
###