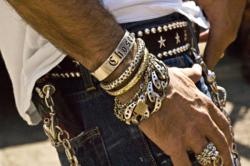 Bal Harbour, Fla (PRWEB) September 07, 2011
J.W. Cooper and the Santa Monica-based company, King Baby Studio have partnered to establish a greater King Baby Studio presence in J.W Cooper stores. The new dedicated area will initially be rolled out in the J.W. Cooper store at Columbus Circle in New York City.
The rollout will also include a trunk show with designer and owner Mitchell Binder. The event will take place in the J.W. Cooper New York store on September 15th from 6:00p.m. to 9:00p.m. A percentage of sales will benefit the Children's Brain Tumor Foundation of New York.
The King Baby Studio line of jewelry and accessories for men and women has been offered at J.W. Cooper stores for the past seven years, both in the New York and Bal Harbour, Florida stores. With this new partnership however, J.W. Cooper will display a more complete line of King Baby Studio products in a dedicated custom showcase. Within these dedicated areas the newest creations of King Baby Studio merchandise will be presented, including King Baby sterling silver jewelry for men and Queen Baby sterling silver jewelry for women, leather jackets and apparel.
"With our reputation for carrying unique one-of-a-kind boots, buckles and accessories, combined with the distinctive styles of sterling silver, gold and precious stone jewelry from the King Baby Studio, it's a natural fit for the stores," says Todd Rauchwerger, owner of J.W. Cooper. "Every item we carry is a work of art, and that's just how King Baby Studio enhances our offerings."
The King Baby Studio line of accessories for men and women keeps consistent with the company's brand mission – to constantly surprise its clientele; those who desire to own or give something that no one else has. The new King Baby Studio merchandise showcase will captivate clients with its original designs featuring edgy motifs and trend-proof collectible jewelry.
About J.W. Cooper
For more than 30 years, J.W. Cooper has been surprising its loyal clientele. Having redefined the men's and women's accessory market with its luxury belt and buckle collection (offering more than 250 styles), J.W. Cooper is renowned for its niche merchandise mix of handmade, one-of-a-kind contemporary accessories, collectibles and custom items.
About King Baby Studio
King Baby Studio is rooted in the freedom of the open road and in the spirit of rock n' roll. In the 1970's, when designer and owner Mitchell Binder was a teenager he moved from Jackson, Mississippi to Los Angeles. At 15, he became a jeweler's apprentice and shortly thereafter began designing on his own. With his trademark, charismatic personality, he soon made the right contacts and quickly became the 'go to jeweler' for Hollywood. In 2007, King Baby Studio officially launched Queen Baby for women with extraordinary success. Mitchell has also partnered with legendary brands including Harley Davidson and Fender. Santa Monica based, King Baby Studio offers handcrafted pieces that unite chunky sterling silver with precious stones, onyx beads and leather. "For the Chosen Few."
To experience and shop King Baby Studio at J.W. Cooper, visit its Manhattan store in Columbus Circle, its flagship store in Bal Habour, Florida, or its virtual boutique at http://www.jwcooper.com. For additional information: 800.643.5773 or jwcooperbh(at)jwcooper(dot)com. Fan J.W. Cooper on Facebook. Follow JWCOOPER on Twitter.
For media inquiries, please contact Tammy Kollinger at RM2 Project at 305.921.9691 or email to tammy(at)rm2project(dot)com.
###