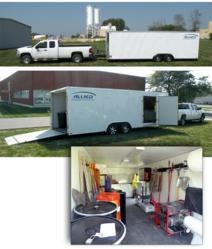 When dealing with an environmental emergency, response time is everything.
Lima, Ohio (PRWEB) September 07, 2011
Maintaining its commitment to providing the most responsive environmental spill clean-up service in northwest Ohio, Allied Environmental Services, Inc. (Allied) recently announced the addition of a second mobile spill response command center.
The new command center consists of a fully equipped, 24-foot enclosed trailer outfitted with a complete stock of sorbents, petroleum and chemical reclamation and storage equipment, personal protective gear, portable electricity generation and flood lighting package.
According to Dan Clemens, Allied Operations Manager, a second response unit was necessary to provide wider geographic coverage and to meet an increase in the number of emergency spill response calls the company is receiving. "When dealing with an environmental emergency, response time is everything. In order to respond effectively, we need to mobilize immediately with a full range of equipment," stated Clemens. "When you arrive on a spill site, you never know exactly what the conditions will be," Clemens continued, "the two command centers allow us to mobilize a very broad spectrum of equipment the instant a call is received."
Strategically, the new command center will deploy from Allied's Lima, Ohio location, while a second unit is stationed at the company's Toledo-based facility. The two units are equipped to manage spills of numerous types including: petroleum fuel spills, hazardous chemical releases, mercury spills, meth-lab decommissioning, biological/blood-borne contaminants, and spills of non-hazardous materials of all kinds. Currently, Allied provides spill response coverage for northwest and west-central Ohio, from Columbus to Toledo and parts of southern Michigan.
About Allied Environmental Services, Inc.
Allied Environmental Services, Inc. (Allied) is an environmental consulting and contracting firm with offices in Lima, Ohio and Toledo, Ohio. For over 24 years, Allied has provided professional environmental management solutions to private industry, property owners, lenders, municipalities, schools, and hospitals. Allied specializes in hazardous materials management, emergency spill response, industrial cleaning (vac-truck and hydroblasting services), asbestos abatement, underground storage tank closure, Phase I and II ESA, and air quality testing.
For more information please visit Allied's website at http://www.allied-environmental.com.
# # #