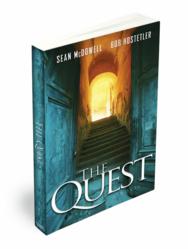 Vista, CA (PRWEB) September 08, 2011
Outreach Publishing announces the release of The Quest, a novel written by Sean McDowell and Bob Hostetler as part of the major new book/DVD curriculum series called GodQuest.
In The Quest, readers will learn about twenty-three-year-old Emma Seeger and the single phone call that launches her on the journey of a lifetime. It's a journey that turns out to be more dangerous—and more consequential—than she could have imagined…or feared.
The call is from the woman Emma despises most in the world—her father's wife, Emma's stepmother, a woman who had taken away Emma's father. Not once. Not twice. Three times. She had turned Daniel Seeger into a "born-again" Christian, married him, and dragged him off to Israel, where they worked as some sort of missionaries.
Emma learns her father has disappeared in the midst of escalating political tension and violence. After early efforts to find him prove fruitless, Emma launches out on an odyssey filled with adventure, frustration, danger, and an unlikely partner—her stepmother, Katya, whose faith alternately repulses and intrigues Emma. Their conflicting personalities and competing beliefs could even endanger the success of the one thing they have in common: their shared goal of finding Daniel and returning him to safety.
The Quest is both thrilling and introspective. Readers will have a hard time putting the book down as Emma and her stepmother Katya brave a morgue, a mysterious investigator, ethnic violence, and a high-speed chase in their quest to rescue Daniel Seeger. Emma's biggest discovery, though, will come through her personal quest to discover truth—and the God her heart is longing for.
Sean McDowell, a popular speaker, apologist, and an award-winning high school teacher is the son of speaker and author Josh McDowell (More than a Carpenter, Evidence that Demands a Verdict) who has sold millions of books and lectured around the world about the historical and philosophical proof for Christianity. Sean McDowell is notable in his own right: he speaks around the country on faith issues, is currently working on a PhD from Southern Baptist Theological Seminary and is the author and co-author of twelve books including Understanding Intelligent Design, Is God Just a Human Invention and The Unshakable Truth.
Bob Hostetler is an award-winning writer, editor, pastor and speaker from southwestern Ohio. His twenty-six books, which include The Bone Box and American Idols (The Worship of the American Dream), have sold millions of copies. He has co-authored eleven books with Josh McDowell, including the best-selling Right from Wrong (What You Need to Know to Help Youth Make Right Choices) and the award-winning Don't Check Your Brains at the Door. He has won two Gold Medallion Awards, four Ohio Associated Press awards, and an Amy Foundation Award, among others. Bob is a frequent speaker at churches, conferences, and retreats.
GodQuest is a powerful series created by Sean McDowell to help readers investigate the unique claims of Christianity and make decisions in a way that is personal and relevant to everyday life. In the midst of the spiritual confusion in our society, GodQuest provides a fresh voice of truth.
The series features a set of products and resources: There are two DVD-based studies — one for adults and one for teens —which feature Sean McDowell, Josh McDowell, Lee Strobel (The Case for Christ) and others. These, together with the non-fiction book, explore pressing questions about the existence of God, the origin of the universe, the reliability of the Bible, the identity of Jesus, the problem of suffering, and the path to heaven. The series powerfully ties readers' beliefs to the choices they make in life, and ultimately, to their final destination. While most of the GodQuest products tackle these issues head-on, The Quest wraps them around the engaging story of Emma, her stepmother and their search to find Emma's father.
About Outreach:
Founded in 1996, Outreach, Inc. has quickly grown to become the largest provider of church outreach products and services in the world. With a mission to share God's love and empower the church to share the message of Jesus Christ, Outreach provides cost-effective, proven methods and resources in a variety of forms, including books, media and film, postcard invitations, banners, bulletin covers, curriculum, church campaign materials and more.
###