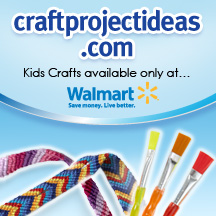 The Horizon team states, "all projects have been made with recycled materials and affordable arts and crafts materials available at Walmart. Use the projects as starting points for creative exploration and artful discussions to have with your children!"
Warren, NJ (PRWEB) September 08, 2011
Horizon Group USA, a leading manufacturer of arts and crafts products, announces the launch of a website that focuses on family and classroom friendly arts and crafts projects: http://www.CraftProjectIdeas.com
Designed by a team of educators, crafters and artists the projects on CraftProjectIdeas.com are a resource for kids' crafts projects for children from preschool age to tween. Arts and crafts projects on the website are designed with teachers, parents and caregivers in mind and are perfect for the home and the classroom. Projects featured include step-by-step instructions, supply lists, and templates. Many of these components can be downloaded directly from the site to create easy craft projects with kids.
The Horizon team states, "all projects have been made with recycled materials and affordable arts and crafts materials available at Walmart. Use the projects as starting points for creative exploration and artful discussions to have with your children!"
Come join the fun and visit this new arts and crafts website at http://www.craftprojectideas.com.
###