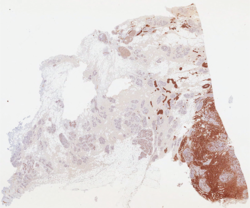 Determining mutation penetration and the variance in the expression of specific proteins can point to the underlying cause for refractory disease
Flagstaff, AZ (PRWEB) September 07, 2011
Flagship Biosciences, a leading provider of FFPE and frozen tissue analysis for pharmaceutical and medical device development, announced today the launch of new heterogeneity testing services. These patent-pending techniques have been developed by in-house scientists at Flagship for better assessment of the variability of a DNA mutation or a protein expressed in tissue. Rather than assuming that a tissue sample is homogenous, the approach embraces the concept that heterogeneity can be critical biological information, and its evaluation a potential prognostic for therapy.
"Heterogeneity is a reflection of the plasticity of tumor cells" said Dr. Joseph Krueger, Director of Biology at Flagship Biosciences "This plasticity is regulated by both gene mutations and epigenetic gene product regulation. These processes can create sub-populations of cells within a tumor which are inherently resistant or acquire resistance to a targeted therapy. The current techniques for assessing a diagnostic marker to select patients for targeted therapies fail to account for the heterogeneity commonly seen in most types of cancer."
The DNA mutation analysis service is a combination approach of both real-time PCR and repeated Sanger sequencing, using a proprietary method of normalization when analyzing ratios between wildtype and novel and known point mutations. The method identifies mutations in a sample as well as measuring the percentage of tissue with each mutation.
The IHC heterogeneity analysis relies on a proprietary tumor heterogeneity score called HetMap that reports both cell-level heterogeneity and tumor-level heterogeneity in the same tissue block utilized to determine the DNA mutation analysis. With IHC multiplexing, the HetMap score can evaluate additional markers and the interactions of markers as necessary.
"The recent clearances in companion diagnostics for specific mutations in melanoma and lung cancer demonstrate the importance of evaluating heterogeneity in tissue. Despite having a driving mutation in these tumors, 40-50% of selected patients will not show a response to drugs which target these mutations. This could be because of variability in tumor cells having that mutation, or other independent factors which cause insensitivity to the drug in sub-populations of cells" added Joseph Krueger. "Determining mutation penetration and the variance in the expression of specific proteins can point to the underlying cause for refractory disease. Incorporating assessments of tumor heterogeneity as part of a diagnostic will facilitate better prediction of a patient's potential for response, and will provide rationale and selection for therapy regimens that will increase the response rates of these refractory patients.
The DNA heterogeneity complements the IHC heterogeneity measurement. The penetrance of a particular mutation can be correlated to specific factors assessed by IHC. While immunohistochemisty is a semiquantitative technique, it has the exquisite advantage of cell-level protein expression analysis, with cellular details and contextual information about the expression of a protein in nests of cells.
The image analysis and pathology techniques behind HetMap will be presented at the Pathology Visions 2011 conference, the premier conference on Digital Pathology. Specific applications will be presented at the CTRC-AACR San Antonio Breast Cancer Symposium meeting this year. Publications describing these novel approaches are being submitted for publication this year.
Flagship Biosciences is a pathology CRO, that specializes in tissue-based companion diagnostics, and histopathology assessment of efficacy and toxicity using brightfield and fluorescent whole slide imaging.
###