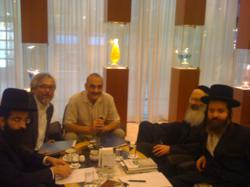 "..for the first time in Japanese Jurisprudence history, a US law enforcement procedural expert's testimony would be accepted in a Japanese court. "
Stone Ridge, NY (PRWEB) September 09, 2011
The Blind Mule Scam: In April, 2008, a businessman contacted the head Rabbi of the Satmar Hassidic Community in Israel with a request: He needed some students to deliver antique religious (Judaica) articles to a Chabad, (a Hassidic outreach program that provides education and aid throughout the world) in Tokyo. They would be doing a great service and at the same time receive a free, educational trip to the small Jewish community in Tokyo. Source: Michael Levine Trial Consulting, http://www.policetrialexpert.com
Yoel Goldstein, Yakov Gruenwald and Yosef Banda, agreed to make the trip. They were furnished travel tickets to Japan that included a short layover in Amsterdam where they were to pick up the religious articles. Instead of being met by members of the Satmar sect, they were met by Europeans who spoke Dutch and English, languages they could barely understand. They were furnished with suitcases equipped with sealed false bottoms and told to abandon the new ones they had purchased for the trip. The three boys who had grown up in a community that prohibited the influence of outside news and media sources, were led to believe that the extremely valuable religious articles were concealed for their protection against robbery. The three had unwittingly become "mules" for a major international smuggling operation. Mishpachah Magazine, The Jewish Family Weekly, 3/9/11, by David Sussman, http://www.mishpacha.com/Browse/Article/827/On-the-Witness-Stand-in-Japan
The Arrest:" On their arrival at Narita Airport, the three were arrested when a Japanese customs officer found that the suitcases' false bottoms contained $3.6 million dollars in MDMA, (Ecstasy), an illegal drug the possession of which, (as in the US), is punishable by lengthy prison terms in Japan.
The First Two Trials: Under the Japanese judicial system, during the course of the next two years, Gruenwald and Banda were tried separately, with Yoel Goldstein's trial scheduled last, to begin in 2009. Each of the first two trials were long-running affairs with multi-sessions before a three-judge panel during which witness and expert testimony was heard. The Hassidic Community had experts flown in from all parts of the world, to testify that the boys could not possibly know that they were carrying drugs. The experts ranged from religious scholars and Rabbis, to psychologists and even a polygraph expert. The Japanese court listened to all of them and early in 2009, and in separate decisions, found the first two defendants, Banda and Gruenwald, guilty of all charges. No surprise since the conviction rates in Japan are roughly 99.8%. Homodia, 9/7/11, The Daily Newspaper of torah Jewry, by Yochi Donn http://www.hamodia.com/mainstory.cfm
Blind Mule Defense: It was urgent that a different defense plan be devised for the third and final trial of Yoel Goldstein, now scheduled to begin in early 2009. One of the rabbi/lawyers on the defense team realized how futile it would be to just trot out the same teams of experts for yet a third trial. He did some research on the Internet and found an article written by Michael Levine, a trial consultant and police instructor who had been a highly decorated DEA supervisory officer entitled "Blind Mules – Fiction or Fact," ( published in Law Enforcement Executive Forum a publication of the Illinois Law Enforcement Training and Standards Board, the University of Western Illinois, 2006).
A meeting was set in New York City with Levine and the Japanese attorneys representing Yoel Goldstein. Levine, by this time had reviewed the materials detailing the Japanese police investigation, and was convinced that the three boys actions were consistent with them being "blind mules," (unwitting drug couriers). The Japanese attorneys advised that not only was a "blind mule defense" unknown to Japanese Jurisprudence, but that the testimony of a US law enforcement expert had never before been accepted by a Japanese court. There was no alternative, however, and Levine, working closely with the Japanese attorneys, began to work toward convincing the Japanese court that without the testimony of a law enforcement expert, Yoel Goldstein could not get a fair trial. Yated Ne'men, the Torah Newspaper For OUr Times, "Deep Cover, "Shedding The Light on The Case in Japan," By Rabbi Yitzchok Hisiger, 7/7/11, http://www.yated.com/content.asp?contentid=240
Blind Mule Testimony: After more than a year of careful, expert report and affidavit preparations and legal maneuvering by Japanese defense attorneys, Takashi Takano, and Tsotsumo Nakamura, for the first time in Japanese Jurisprudence history, a US law enforcement procedural expert's testimony would be accepted in a Japanese court. On 7/27/10, Michael Levine in a historic day long session, detailed for a three-judge panel, how the victimization of innocent travelers as unwitting drug couriers [Blind Mules] was a common practice of sophisticated international drug smuggling organizations, how the specific actions of Yoel Goldstein were entirely consistent with him being a "blind mule," and how the substandard investigative actions of the police who had arrested the three boys, ensured that exculpatory evidence was irretrievably lost and that the drug trafficking organization behind the plot would remain untouched. http://www.hamodia.com/mainstory.cfm
The Verdict: The final and historic verdict, delayed as the result of the tragic earthquake and Tsunami came on August 29, 2011. Yoel Goldstein was acquitted of all charges by Judge Masanori Hadoko of the Narita district court in Chiba Japan,. He has since returned to Israel.
For additional information or author interviews contact
Laura Kavanau, Sentac International Investigations
Email: Lkav53(at)aol(dot)com
For Background of Michael Levine http://www.policetrialexpert.com
# # #