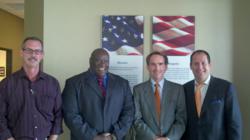 We can now automate the most burdensome tasks for human analysts.
Sierra Vista, AZ (PRWEB) September 12, 2011
Ariston Consulting and ai-one announced a strategic partnership today that will provide the US Army's Electronic Proving Grounds with machine learning tools to test and evaluate military Command, Control, Communications, Computers, Cyber, and Intelligence Test Bed (C5ISR) systems.
The partnership provides Ariston with a first mover advantage in building custom solutions for the DoD using a new generation of artificial intelligence tools that were released to the market in June 2011. These tools enable software developers to build machine learning into applications so computers can recognize patterns and associations much like a human.
"This technology enables us to do far better testing in less time on far less money." said Woody Woodruff, Founder and CEO of Ariston. "We can now automate the most burdensome tasks for human analysts."
The impact is potentially huge. More than ten percent of the DoD budget is spent on research, development, test and evaluation according to a report to a May 17, 2011 report to the House Committee on Armed Services.
ai-one's technology differs from other forms of artificial intelligence because it learns without any human intervention. It detects the inherent structure of data in very complex environments so computers can recognize patterns and associations – even for the faintest signals. It automatically builds a database (called a lightweight ontology) that shows humans how any piece of data relates to another. The technology works with any digital file – including text, images and radio signals.
Ariston plans to start using ai-one's Topic-Mapper product for text analytics to evaluate messaging systems for the US Army Electronic Proving Grounds. Olin Hyde, VP of Business Development for ai-one explained that "It is language agnostic. So it is ideal for finding patterns where people don't use conventional grammar or words. For example, it can find the sentiments in Twitter feeds with only a few commands."
Future plans include using it to analyze threat patterns in cyber security, cataloging radio signals, network monitoring and management and other trial analysis programs. "The core technology plays broadly in the C5ISR space," said Woodruff, "the key will be finding areas where we can prove immediate returns on investment. The cost is low – so we expect it will be a question of just picking the right test environments to focus our efforts."
About Ariston Consulting LLC., is a Service-Disabled Veteran-Owned Small Business (SDVOSB) based in Sierra Vista, AZ, providing the best testing and engineering solutions designed for today's defense industry challenges. Ariston's diversified experts provide solutions for test methodology and design, operational, developmental and interoperability test services, analytical and data services. Current clients include: Joint Interoperability Test Command (JITC) and the U.S. Army Test and Evaluation Command Electronic Proving Grounds (EPG) at Fort Huachuca, AZ and the U.S. Air Force Joint Test and Evaluation Joint UAS Digital Information Exchange (JUDIE) effort at Nellis AFB, NV. In addition, Ariston is a specialist in providing Department of Homeland Security Independent Test and Evaluation services with staff experience as the Independent Tester of Secure Border Initiative Network and Project 28.
Contact: Steve Mecham, Phone: 1-520-378-6112, email: steve(dot)mecham(at)aristonhq(dot)com
About ai-one inc., ai-one provides technologies that enable programmers to build artificial intelligence into software programs. Based in San Diego with offices in Zurich and Berlin, ai-one's "biologically inspired intelligence" is a virtual brain that learns without human intervention. Technically described as an adaptive holosemantic data space with semiotic capabilities, ai-one's approach provides more accurate answers than competing technologies. The Topic-Mapper™ SDK for text enables developers to create intelligent applications that deliver better sense-making capabilities for semantic discovery, lightweight ontologies, knowledge collaboration, sentiment analysis, artificial intelligence and data mining.
Contact: Olin Hyde, Phone: 1-858-381-5897, email: oh(at)ai-one(dot)com
###