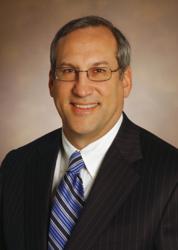 "Larry is a remarkable leader who will serve Loyola University Health System and Trinity Health with distinction and expertise in academic medicine." said Joseph R. Swedish, president and CEO, Trinity Health.
Maywood, IL (PRWEB) September 09, 2011
Larry M. Goldberg, chief executive officer, Vanderbilt University Hospital, Nashville, Tenn., has been selected as the new president and chief executive officer of Loyola University Health System (LUHS). He will officially join the health system in mid-October 2011.
To LUHS, Goldberg, 49, brings the insight of a veteran of academic medicine as well as the skill of a strategic business leader. At Vanderbilt University Medical Center, Goldberg led a multi-year strategic positioning initiative for the medical center, including the clinical, academic and research enterprises, aimed at improving profitability. Also while at Vanderbilt, he oversaw the planning and construction of a 141-bed critical-care patient tower and supported the development of the Vanderbilt Heart and Vascular Institute.
Goldberg knows the Chicago health care market very well. Prior to joining the leadership team at Vanderbilt, Goldberg served as vice president of hospital operations at Northwestern Memorial Hospital, Chicago. In that role, Goldberg directly managed all support, diagnostic, therapeutic and ambulatory care services. In addition to direct line management, he led critical operational activities, including inpatient capacity, hospital-wide information systems, and program development for the hospital's centers of excellence, including cardiovascular services, neurological sciences, oncology, solid organ transplantation and women's health.
"Larry is a remarkable leader who will serve Loyola University Health System and Trinity Health with distinction and expertise in academic medicine," said Joseph R. Swedish, president and CEO, Trinity Health. "He also brings a strong commitment to excellent patient care. We are delighted to have him join us."
Goldberg will replace Daniel G. Hale, who has been serving as LUHS' interim president and CEO since July 1, 2011, when the health system became a part of Trinity Health, an organization of 47 hospitals based in Novi, Mich. Hale is executive vice president of the Trinity Institute for Health and Community Benefits at Trinity Health.
Goldberg received his Master of Health Administration Degree from Duke University, Durham, North Carolina, in 1990 and his bachelor of science degree in Health Policy and Administration from the University of North Carolina, Chapel Hill, in 1985.
He served on the board of the Hospital Alliance of Tennessee since 2005 and was its chairman from 2008-2010. Goldberg also is the current chairman of the board of Middle Tennessee e-Health Connect, a position he has held since 2010.
A frequent presenter and lecturer, Goldberg is a thought leader on healthcare reform and the economics of medicine. He remains involved with numerous charitable organizations including the American Heart Association, the American Cancer Society, the Partnership to Educate & Advance Kids, and is the founding member of the board of directors for the Joseph G. Nicholas Foundation for the Promotion of Youth Education.
About Loyola University Health System
Loyola University Health System, a member of Trinity Health, is a quaternary care system based in the western suburbs. It includes a 61-acre main medical center campus, the 36-acre Gottlieb Memorial Hospital campus and 22 primary and specialty care facilities in Cook, Will and DuPage counties. The medical center campus is conveniently located in Maywood, 13 miles west of the Chicago Loop and 8 miles east of Oak Brook, Ill. The heart of the medical center campus, Loyola University Hospital, is a 569-licensed-bed facility. It houses a Level 1 Trauma Center, a Burn Center and the Ronald McDonald® Children's Hospital of Loyola University Medical Center. Also on campus are the Cardinal Bernardin Cancer Center, Loyola Outpatient Center, Center for Heart & Vascular Medicine and Loyola Oral Health Center as well as the LUC Stritch School of Medicine, the LUC Marcella Niehoff School of Nursing and the Loyola Center for Fitness. Loyola's Gottlieb campus in Melrose Park includes the 264-licensed-bed community hospital, the Professional Office Building housing 150 private practice clinics, the Adult Day Care, the Gottlieb Center for Fitness and Marjorie G. Weinberg Cancer Care Center.
About Trinity Health
Trinity Health is the fifth-largest Catholic health care system in the country. Based in Novi, Mich., Trinity Health operates 47 acute-care hospitals, 401 outpatient facilities, 31 long-term care facilities, and numerous home health offices and hospice programs in 10 states. Employing more than 53,000 full-time staff, Trinity Health reported $7.0 billion in unrestricted revenue in fiscal year 2010. As a not-for-profit health system, Trinity Health reinvests its profits back into the community through programs to serve the poor and uninsured, manage chronic conditions like diabetes, health education and promotion initiatives, and outreach for the elderly. In fiscal 2010, this included nearly $460 million in such community benefits. For more information about Trinity Health, visit http://www.trinity-health.org or become a fan of the Trinity Health Facebook page at http://www.facebook.com/trinityhealth.
###