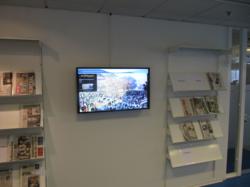 Aalborg, Denmark (PRWEB) September 13, 2011
The Black Box system runs the library's digital signage and integrates its presentation with ArtPlayer content. "ArtPlayer runs directly in the browser and it couldn't be easier to add the ArtPlayer link to the Black Box playlist. That means it can run as part of our regular presentation," says IT Specialist Carsten Bo Vilhelmsen from the library's IT department. He adds, "This year, we have displayed over 500,000 ArtPlayer images through Black Box and brought a great ambience as well as edutainment to all our visitors."
Cumedin Managing Director Morten Kryger comments, "We are very pleased that it's so simple to integrate ArtPlayer's service with a leading digital signage system like Black Box. It really is as simple as just scheduling a link in the system's playlist. ArtPlayer is exceptionally easy to implement, and it makes the perfect screen feed for museums, libraries, hotels etc. Any institution worldwide that's already running Black Box, or indeed any other digital signage solution, can benefit from our service. Our vision is to become a leading global provider of digital art ready-made themes that can be adjusted according to taste, interest and purpose for displaying in public spaces and the digital home of the future."
For additional information, please contact Morten Kryger or visit http://www.artplayer.com
About Taarnby Community Libraries
Population of Taarnby municipality: 40,000. Public space: 3,000 square meters. Opening hours main library (summer/winter): 48 hours/55 hours per week. Visitors: 332,000.
About Black Box A/S
Black Box is a leading communications system integrator dedicated to designing, sourcing, implementing and maintaining today's complete communications solutions. Black Box services more than 175,000 clients in 141 countries with 197 offices throughout the world. For more information visit http://www.blackbox.eu
About Cumedin ApS
Cumedin ApS is a start-up screen media company that operates ArtPlayer.com. Our focus is on delivering fast and simple access to great digital-art-as-a-service entertainment for resellers in the digital signage broadcasting industry worldwide.
Contact:
Managing Director Morten Kryger
Cumedin ApS
+45 30 426384
mk(at)artplayer(dot)com
# # #