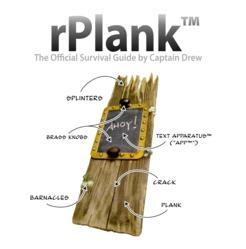 The rPlank™ doesn't use fragile silicon memory storage or brittle petroleum based plastics – it be made of real materials like wood and brass and iron. It has heft. It has presence. It cannot be lost in the folds of a pocket and washed accidentally.
Atlanta, Georgia (PRWEB) September 14, 2011
Just in time for "International Talk Like a Pirate Day" comes an book from PiratePalooza Press (PiratePalooza.com) about a clumsy new gizmo billed as the 18th Century's answer to Apple Computer's popular iPad tablet. The book's author and inventor of the rPlank, Captain Drew, has published a new users guide entitled "rPlank : The Official Survival Guide" to teach curious pirate fans and interested developers the tenets of Piratepunk technology. Now available for purchase as a softcover ($40 color; $14.99 black & white) from Lulu.com, and as an iBook from the Apple iBookstore ($9.99).
A YouTube video titled "What be rPlank?" shows off many of the features covered in the humorous new publication. The new book describes a revolutionary atomic battery which can provide power to the interchangeable "Apparatuses" that users may bolt to the plank using two heavy brass knobs.
With over 20 exciting Apps and counting, the book explains how "rPlank is an attractive platform for developers with no computer programming skills, and possibly a peg leg, or a hook for a hand". Current Apparatuses (called "apps" for short) include a traveling writing desk, a miniature chalk board, a whist playing board and several well regarded broadsides like 'The High Seas Journal', 'Popular Natural Philosophy' and 'Toy Story of the Caribbean V'.
A website for the book, provides a glimpse of the book's low-tech device, which is "made from a plank of weathered wood measuring two feet long, covered in barnacles, with splinters at one end and a handle on one side." Also included in the book is a retrospective of Captain Drew's rPhone, which made its debut in 2007, well ahead of Apple Computer's iPhone.
The Captain will be signing his book at the 7th Annual Official PiratePalooza Pubcrawl & PubSing in Decatur, Georgia.
First discovered by the blogger Fake Steve Jobs in 2007, Captain Drew is best known for his Steampunk-style rPhone and his annual PiratePalooza Pubcrawl & Pubsing attended by hundreds of costumed pirates. Captain Drew has been described by one reviewer as "What Douglas Adams would have become if he'd been bitten by a radioactive pirate."
###