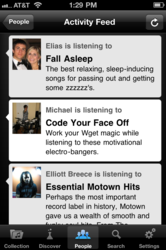 Long Island City, NY (PRWEB) September 13, 2011
Today, the streaming service Songza.com launched the only free mobile apps that create personalized and sharable music collections in the cloud. Like a music concierge, Songza helps users easily access the perfect playlist for any activity, mood, theme, or occasion.
Songza also announced the close of a financing transaction led by investors that had previously backed AmieStreet.com, the Songza team's prior venture, including Deep Fork Capital and an undisclosed strategic investor. Geoff Judge, co-founder of 24/7 Real Media, also participated in the financing and joins Songza's Board of Directors.
"In 2011, people want big, free music collections that are easy to build, easy to keep fresh, accessible anywhere and sharable with their friends," said Elias Roman, CEO and co-founder of Songza. "Songza is the only service that delivers that."
Songza features over 75,000 playlists created by people – including music experts, celebrities, artists and record labels. Any Songza user can create their own playlist using the Songza.com website and share it with the community, choosing from Songza's library of over 14.5 million songs.
Songza is free of audio advertisements and has no monthly listening limits.
"We love Songza's unique approach to this market because it marries expert curation with the social graph to deliver users the right soundtrack at the right time for free," said Timothy Komada, Managing Partner at Deep Fork Capital. "Even the busiest music fan can have an excellent, personalized streaming music collection with Songza."
The Songza application is available as a free download in the US Apple App Store here: http://www.bit.ly/Songza_iPhone, and the US Android Market here: http://www.bit.ly/Songza_Android. A dedicated iPad application will be available shortly.
Songza App Key Features:

Social music discovery – Log into Songza with your Facebook account to serendipitously discover new playlists that your friends are listening to or creating, and to view your friends' music collections.
Expert-curated discovery – Easily access the perfect playlist organized by a wide range of activities, genres, moods, decades and culture. For example, the activities category helps you find the perfect soundtrack for everything from hosting a dinner party, to coding software, to barbequing.
Cloud-based music collection – Save your favorite playlists to your personal music collection. Collections can be shared with friends, organized by era, activity, mood, genre or any other categorization and accessed from anywhere.
About Songza
Songza.com is the only free streaming music service that builds you a collection of playlists that is completely personalized, portable, and sharable with your friends. Like a music collection concierge, Songza helps you discover and save playlists for any activity, mood, or occasion. Headquartered in Long Island City, NY, Songza is built by the team that founded crowd-priced MP3 download store AmieStreet.com in 2006 from their dorms at Brown University.
###