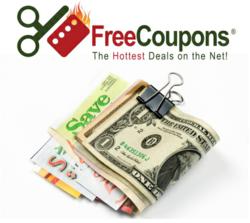 Whether you want to print coupons or use our digital coupons Freecoupons.com has all of the tools you need to save money!
Avila Beach, CA (PRWEB) September 14, 2011
With drought and extreme weather plaguing farms across the nation the cost of food is increasing. When the farming industry suffers the national economy suffers. Some of the crops that have been affected most drastically include wheat and corn. On top of extreme weather these crops are also facing crop disease and natural disasters. What does this mean for you? With grain prices on the rise you will notice cereals, sweets, pet food products and more continue to increase in price.
Freecoupons.com has everything the average American family will need to combat this rise in grocery prices. Visit the grocery coupons page to grab as many money saving coupons as possible. Here the user is able to print coupons or use the digital coupons for fast, easy savings.
Check out the getting organized page on freecoupons.com to access a list of stock up grocery prices. This list will show users at what price to stock up on their favorite items. That way the user knows what is a good price for an item and they can stock up on it at that price to use for the next few months.
Freecoupons.com prides itself in helping users overcome tough economic times with more than just coupons. The how to save section of the site provides hot tips and advice on how to save money in all areas of life. With helpful tips on how to have a social life and even entertain often without breaking the bank Freecoupons.com is the site for saving money. Freecoupons.com also gives "do it yourself" tips to save money including making your own laundry soap and TV dinners.
Visit Freecoupons.com sweepstakes page to get a peek at the latest contest and sweepstakes on the net. This fun and exciting section is filled with opportunities to win free trips, money, TV's, adventures and more. Somebody has to win,saving them money on travel, entertainment and some pretty nice swag.
Real life couponers Marnie Moore and Coupon Crissy never fail to give the most relevant advice on how to save users money right now. With years of experience and a fresh voice they show users how to save beaucoup bucks and have a blast while doing it. Interact with them on Facebook and Twitter to seek advice, get the latest coupon news and join the fun.
About FreeCoupons.com:
FreeCoupons.com is a coupon site that offers the hottest deals on the net with thousands of printable grocery coupons and hot deals for top brands.
###