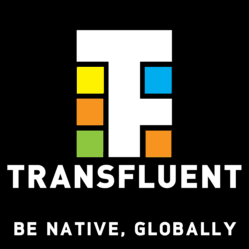 (PRWEB) September 14, 2011
At the TechCrunch Disrupt conference in San Francisco, Transfluent today announced the launch of its professional, near-real-time language translation service for Facebook, Twitter and WordPress.
Transfluent offers businesses a completely new way to reach global markets, leveraging the communication that is already being posted on social media sites.
Transfluent is fully automated and easy to use, yet more affordable than traditional translation services. The goal of the Transfluent service is to make it possible for any business to engage in global communication with no language barriers.
Translations are crowdsourced from human professionals around the globe, ensuring a guaranteed high quality. A pool of more than 15,000 translators, covering more than 60 languages, is available 24 hours a day, every day of the week.
Transfluent users can, for example, email a weekly newsletter in Chinese, have a Facebook fan page in French, a Twitter account in Italian and speak fluent Arabic in blog comments. A special customer support tool makes it possible for an English-speaking customer support team to handle direct customer communication in any language.
"We've noticed that most companies avoid translating content because of the amount of work associated with doing so. You have to find translators, send over the text to be translated, wait, and eventually receive the translated text. After all that, you still need to find a way to publish the text. Doing it once is tedious; doing it on a daily or weekly basis is simply not feasible. Transfluent completely eliminates all of this extra work and enables global communication for everyone," says Jani Penttinen, founder and CEO of Transfluent.
About Transfluent
Transfluent is a revolutionary new translation service, launched on September 13, 2011 at TechCrunch Disrupt in San Francisco. Transfluent combines crowdsourcing with sophisticated software to optimize the quality and speed of translations. Transfluent is based in Helsinki, Finland and has offices in Sunnyvale, California.
About TechCrunch Disrupt
TechCrunch Disrupt SF 2011(http://disrupt.techcrunch.com) is TechCrunch's second annual conference in San Francisco attracting over 2,500 leading technology innovators and investors and over 150 new startups. The main conference is preceded by the popular Hackathon -- a 24-hour competition where over 500 top developers present new innovations. TechCrunch Disrupt follows with a format that combines top thought-leader discussions with new product and company launches. Morning executive discussions debate the most timely disruptions in the technology industry. Afternoons host the Startup Battlefield where 30 plus new companies will launch for the first time on stage, selected to present from more than 1000 applications received from around the world. Another 100 early-stage startups will exhibit in Startup Alley. TechCrunch will award a $50,000 grand prize along with other award recognitions at the conclusion of the conference. The Hackathon is Sept 10-11; the main conference is Sept 12-14 2011 at San Francisco Design Center Concourse, 635 8th Street (at Brannan), San Francisco, CA 94107.
TechCrunch (http://www.techcrunch.com) is a leading technology media network dedicated to obsessively profiling and reviewing new Internet products and companies. Founded by Michael Arrington in 2005, TechCrunch and its network of websites reach over 13 million unique visitors and more than 30 million page views per month. TechCrunch was acquired by AOL in 2011 and operates a global network of websites including dedicated properties in Europe and Japan, as well as specialized industry websites including MobileCrunch, CrunchGear, GreenTech, TechCrunchIT, and CrunchBase. TechCrunch's CrunchBase is the leading open database about startup companies, people, and investors. In addition to TechCrunch Disrupt, TechCrunch hosts other conferences and events, including the Crunchies Awards (http://crunchies2010.techcrunch.com) and various meet-ups worldwide, serving as community platforms for industry conversation and collaboration.
# # #