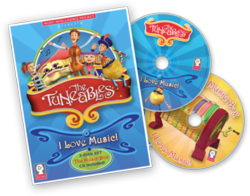 Old Lyme, CT (PRWEB) September 15, 2011
The Tuneables: " I Love Music!," the innovative comprehensive DVD/CD collection that teaches the "ABCs" of music learning to children (ages 3-8) in a fun and engaging way, has been honored with awards by two of children's most influential media organizations. Since being released this summer, The Tuneables, created by The Music Intelligence Project, has received The Parents' Choice Gold Award, Dr. Toy's Best 100 Children's Products of 2011, and Dr. Toy's 10 Best Audio/Video Products.
The Tuneables series provides children with the foundation to build key music skills and understanding. Children are introduced to a symphony of musical characters, like Clara—the Clarinet, Pete—the trumpet, and Mo—the violin, who invite young children to sing, play, and interact with music. The Tuneables' carefully sequenced approach teaches children to "hear it, do it, and name it," which develops their aural perception, kinesthetic response, and verbal association.
The Parents' Choice Foundation awarded The Tuneables: "I Love Music!" DVD/CD 2-disc set with the Gold Award. The Parents' Choice Gold Awards are given to those products that are judged as the highest quality and most appealing. Criteria for judgment include the highest production standards, universal human values and a unique, individual quality that pushes the product a notch above the others.
Dr. Toy recognized The Tuneables as one of the 100 Best Children's Products for 2011 and Top 10 Best Audio/Visual Products. The Dr. Toy Award program focuses on unique, high quality, creative and educational products and is now in its 20th year.
The Tuneables 2-disc set is available online at http://www.thetuneables.com/the-music-shop for $29.99. Downloadable versions, including HD, are also available. A Music Box CD is sold separately, for $14.99 and is available for download. For more information, visit http://www.thetuneables.com/ or visit The Tuneables on Facebook at http://www.facebook.com/thetuneables
###