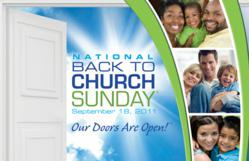 Vista, CA (PRWEB) September 14, 2011
"Back To Church Sunday," a national movement to reverse declining church attendance and encourage former church-goers to rediscover church, will be celebrated Sept. 18 across the country. Since its inception, more than 3.5 million invitations from over 7,400 churches have been extended to unchurched people to attend the special service.
"As church-goers show concern for family and friends, the impact of this campaign will last well beyond this coming weekend," said Philip Nation, director of ministry development for LifeWay Research, whose surveys of unchurched people have shown they are receptive to invitations from people close to them. "Our hope is that God will touch many lives through the simple act of an invitation."
Although 83 percent of American adults identify themselves as Christians, only about 20 percent attend church on any given Sunday. Yet, a study by LifeWay Research and the North American Mission Board of over 15,000 Americans found that 67 percent say a personal invitation from a family member would be effective in getting them to visit a church. Fifty-six percent say an invitation from a friend or neighbor would likely move them to respond.
Churches that enlisted in the 2010 campaign saw an average 26 percent increase in their weekend attendance, according to Eric Abel, Director of Back to Church Sunday.
"When members reach out to others, it makes a dramatic impact," said Abel. "'Back To Church Sunday' focuses greater awareness on taking the time to simply ask a friend or family member to join you at church."
Back To Church Sunday maintains an interactive Facebook page, website, promotional video and a list of participating churches.
Outreach, founded in 1996, has quickly grown to become the largest provider of church outreach products and services in the world. With a mission to share God's love and empower the church to share the message of Jesus Christ, Outreach provides cost-effective, proven methods and resources in a variety of forms, including books, media and film, postcard invitations, banners, bulletin covers, curriculum, church campaign materials and more.
LifeWay Christian Resources, in operation since 1891, is one of the largest Christian resource organizations in the world. LifeWay Research exists for the purpose of equipping church leaders with insight that will lead to greater levels of ministry effectiveness through research-based books and reports based on statistically validated surveys. LifeWay Research is one of the most trusted sources of information about the church, culture, and faith.
###