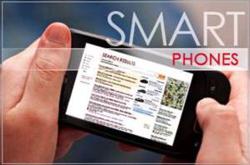 "For media companies selling mobile solutions as part of their product portfolio, this research provides them with the ammunition they need to expand their clients into the mobile arena."
Salt Lake City, UT (PRWEB) September 20, 2011
A new study of over 200,000 U.S. consumers by Market Authority, Inc., the market research leader in studying traditional and new media platforms, finds that nearly 6 out of 10 SmartPhone owners look for a business without knowing the specific name.
"This information is very important to businesses looking to target consumers using their phone to find a business," said Steve Sitton, founder and CEO of Market Authority. "For media companies selling mobile solutions as part of their product portfolio, this research provides them with the ammunition they need to expand their clients into the mobile arena."
The Market Authority study found numerous other facts about SmartPhone users, including:

Three-quarters of SmartPhone users search for a local business using their phone (either by specific name or by category)
Nearly 8 out of 10 consumers with a SmartPhone send text messages
SmartPhone users are 2x more likely to text than non-SmartPhone owners
Younger consumers are 2x more likely to text (using either a regular cell phone or a SmartPhone) than older consumers.
Consumers with SmartPhones visit Facebook over 50% more often than non-SmartPhone users in a given month
"SmartPhone ownership and expanded usage are growing at a rapid pace, and not just in major cities," Sitton continues. "Our nationwide research shows that suburban, smaller metro and even rural areas have strong SmartPhone penetration, which means advertisers in those markets need to prepare their mobile strategy a lot sooner than they may assume."
SmartPhone usage, as expected, has been adopted quickly by the younger demographic categories. While regular cell phone usage stays constant for consumers older than 50, younger consumers are nearly 3x more likely to have a SmartPhone than someone over 50. "SmartPhone local business search will become a true powerhouse when the baby boomers (the generation with nearly half the buying power in America) adopt it in masses. We are beginning to see a move in this direction in the large metros."
ABOUT THE STUDY:
Market Authority, Inc. has conducted interviews with over 200,000 consumers across the country in the last 16 months to study their technology and media habits when looking for a local business. This vast wealth of current consumer information gathered from over 250 U.S. cities makes Market Authority, Inc. the leading authority on the reality of usage in print and digital platforms. The research includes analysis of new media (search engines, online Yellow Pages, group buying sites, mobile browsing, etc.) and traditional media (print Yellow Pages, newspapers, etc.). The results of the nationwide study continue to evolve and change as Market Authority, Inc. surveys consumers in urban, suburban and rural demographics across the country.
# # #