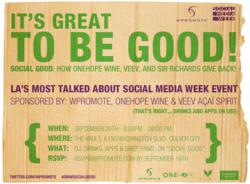 We came up with the concept of the panel because the fusion of entrepreneurship and social good is such an amazingly exciting trend. To have sharp business minds apply themselves to bettering the world is a topic that deserves attention. -Mike Mothner
Los Angeles, CA (PRWEB) September 15, 2011
The second annual Social Media Week Los Angeles will take place the entire week of September 19-23 at multiple locations across Greater Los Angeles in accordance with executive producer and city partner SocialRadius. For the first time, Wpromote, Inc. an LA- based online marketing agency, will be hosting a mixer during Social Media Week, celebrating Los Angeles' thriving internet industry and the many talented companies, organizations and innovators driving the future of advertising, media, technology and business online. This event will take place on Tuesday, September 20, at The Vault gallery in Culver City.
Guests will enjoy passed light fare, ONEHOPE WINE, Açaí Lemonade (Eco Aid) and Superfruit Margarita (two of VEEV's signature drinks), which will made by a VeeV mixologist. There will be a DJ spinning all night, along with a brief panel discussion with Mike Mothner, Founder & CEO of Wpromote, Carter Reum, Co-founder of VeeV Açaí Spirit(official spirit of Virgin Airlines), Mike Weber, Director of Online for ONEHOPE Wine, and Mia Herron Director of Marketing & Communications, Sir Richard's Condom Company, surrounding the topic of "Social Good: Taking Social Media to Social Action." In keeping with the Social Media theme, there will also be a raffle for attendees who tweet about this event through the hashtag #SMWSocialGood
"We came up with the concept of the panel because the fusion of entrepreneurship and social good is such an amazingly exciting trend. To have amazingly sharp business minds apply themselves to bettering the world is a topic that deserves attention." said Mike Mothner, CEO of Wpromote. "The panelists all have incorporated social media deeply into their business models; without social media, these innovative startups very well may not be where they are today."
About Wpromote
Wpromote is an award-winning online advertising firm headquartered in El Segundo, CA. Founded in 2001 by Michael Mothner, Wpromote has helped over 37,000 clients grow their businesses online. With unmatched experience in search marketing and an unrivaled dedication to our clients' results, we always stand out above the crowd. The 70+ employees at Wpromote currently manage more than 3,500 clients spanning a wide range of industries and verticals in over 60 countries worldwide. A few integrated search engine marketing clients include Bayer HealthCare, Vans, Toyota, Allied Van Lines, HP, Southern California Edison, Symantec, Fisher- Price and Universal Music Group.
About Social Media Week/Social Media Week LA
Social Media Week is a multi-city global conference connecting people, content and conversations around emerging trends in social and mobile media. Globally, Social Media Week has become the world's largest simultaneous conference of any kind. Los Angeles is just one of two US cities taking part of the week-long global effort, which will also include concurrent week- long events in Beirut, Berlin, Chicago, Glasgow, Milan, Moscow, Rio de Janeiro, Sao Paolo and Vancouver.
###