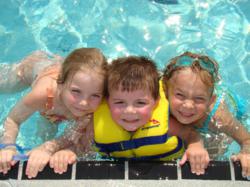 For those faced with infertility, The World Egg Bank strives to make building a family a simple reality.
Lexington, Ky. (PRWEB) September 20, 2011
Five years ago, cutting edge technology in infertility research produced the first baby from The World Egg Bank's inventory of frozen donor eggs. The company was the first commercial egg bank in the US and specializes in shipping frozen eggs worldwide.
Today, 5 year-old Avery Lee Kennedy of Lexington, Kentucky is in kindergarten and says she loves school so much, she wants to be a teacher.
Avery Kennedy was born on New Year's Eve in 2005, after the first successful in-vitro procedure using frozen donor eggs. Renowned fertility specialists Dr. James Akin and Dr. Jeffrey Boldt performed the procedure. They are founding directors of The World Egg Bank, headquartered in Phoenix, Arizona.
Avery's mother, Wendy Kennedy, 47, a University of Kentucky cancer nurse, was the first woman to become pregnant using frozen donor eggs from The World Egg Bank.
Avery is a blue-eyed, blonde haired girl of German and Irish descent, a similar background to her mother and father. Her parents say she is outgoing, loves ballet, soccer and is singing in the kindergarten choir. The Kennedy's chose a young donor, "who looked like she fit in our family tree."
"Avery is a blessing. She may be considered a medical miracle, but she is a blessing. She is ours and it's awesome!" said Avery's parents.
The availability of frozen human eggs is a relatively new option for IVF patients. The technology used to freeze eggs is more advanced than that of sperm or embryos. Freezing sperm and embryos has been common for decades and is routinely used in fertility treatment. Now women, with infertile eggs, have the same opportunity to carry a baby using an embryo created from frozen donor eggs.
Research has made it as simple to replace a woman's infertile eggs with frozen donor eggs, as it is to replace a man's infertile sperm using frozen donor sperm. The World Egg Bank is so confident in its product, the company provides a guarantee if less than 60% of the frozen eggs purchased do not survive the thaw. Pregnancy rates are equivalent to traditional fresh donor eggs.
"The process of using frozen donor eggs over the traditional method of transferring fresh donor eggs is uncomplicated, less costly, more predictable, has no geographical barriers, provides equivalent pregnancy rates and, when purchased from The World Egg Bank, comes with a guarantee," said Diana Thomas, President and CEO of The World Egg Bank.
The Kennedy's became pregnant on the first try.
"I know people who did in-vitro and didn't tell anyone. It's nothing to be ashamed about," said Kennedy. "I want couples that can't get pregnant to know there's technology out there and so many more advancements since my donor egg pregnancy over five years ago," she added.
The cost of using frozen donor eggs is contained in a single payment; typically ranging from $15-$20,000 per attempt. Traditional fresh egg donation costs are typically $25-$30,000 per attempt and can have many unpredictable expenses. The technological development and success of egg freezing has made the process of in-vitro fertilization, using donor eggs, much less stressful and more convenient for women and their partners.
The World Egg Bank opened in 2004 and has been shipping worldwide since 2005. To assist with the costly procedures, The World Egg Bank now offers financing.
Interviews are available upon request.
For those faced with infertility, The World Egg Bank strives to make building a family a simple reality.
###