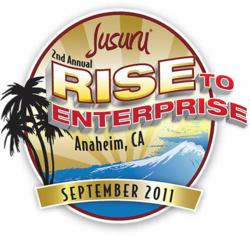 We're proud to move Jusuru into the future with more growth and industry-notable recognition, and continuing to lead the nutritional industry in the way of joint and skin health, as well as an extraordinary culture of leadership.
Anaheim, CA (PRWEB) September 16, 2011
Jusuru International, Inc., a leading nutritional supplement company, commemorated a year of rapid growth and innovation at its second annual convention, Rise to Enterprise 2011, which took place September 9-10 in Anaheim. In addition to educational and networking opportunities, the convention served as a stage to unveil a number of outstanding corporate achievements, products and benefits to Jusuru's independent representatives (iReps). The conference was Jusuru's largest and most successful event to date.
Rise to Enterprise featured training, motivational speakers and recognition of high achievers. Spotlight speakers included Julie Ziglar Norman, daughter of and chief editor for industry legend Zig Ziglar, author of Embrace the Struggle: Living Life on Life's Terms, as well as Jusuru Enterprise level iReps Loren Robin, Barbara Heilman and Michael Lattuca. Nicki Keohohou, CEO of DSWA, introduced life-changing interactive exercises at the Elite Express Leadership Training session. Rise to Enterprise included product and company announcements, and culminated with an elegant "Red Velvet"-themed recognition celebration.
Jusuru corporate news unveiled at Rise to Enterprise included the highly anticipated Jusuru pre-launch in Canada, allowing Canadians to purchase Jusuru Life Blend for personal consumption, with a full launch in that country planned for 2012. Jusuru also announced that the company's website has been translated into Spanish to accommodate and allow for increased business in Puerto Rico, including a new distribution center there, as well as for the general convenience of Jusuru's Spanish-speaking market. Later this year, Jusuru President Asma Ishaq will travel to Paris, France, to the Beauty from Within 2011 international conference, representing a successful U.S. brand that integrates beauty and nutrition.
Rise to Enterprise 2011 attendees were privy to a number of product additions, enhancements and innovations. First, Jusuru Life Blend now features cranberry in addition to 12 other "superfruits" (including acai, mangosteen, noni and blueberry), which is rich in antioxidants and contains a multitude of other health-enhancing properties. In addition, Jusuru is pleased to confirm that its formulation now contains all kosher-certified fruits. Lastly, Jusuru has unveiled 2-ounce single-serving travel shots of Jusuru Life Blend to make getting the recommended daily dose easy and convenient, and a custom redesign of the full-size bottle that features the Jusuru name prominently embossed on both front and back.
Jusuru also shared top-line results with its first finished product skin health human clinical trial, on Jusuru Life Blend on aging women, showing significantly reduced wrinkles, increased hydration, and improved blood microcirculation. And although already substantiated by its ingredients' clinical trials, this adds to the previous distinguished recognition of Jusuru Life Blend's star ingredient, BioCell Collagen. Frost & Sullivan, the world's largest market research firm, honored BioCell Collagen with its Best Bone & Joint Health Ingredient award earlier this year. BioCell Collagen was also recognized as a case study of a premier inside-beauty product in the nutritional industry at the NutriCosmetics Summit in 2011.
Rise to Enterprise attendees were the first to learn about rich new resources available to them. These include a sleek new iRep Starter Kit, featuring eye-catching graphics and easy-to-understand materials in one easy package, designed to offer systematic training to help them excel in their independent businesses. A brand-new website, jusururesources.com, offers Jusuru representatives a comprehensive destination from which marketing materials are easily accessible. And in response to iRep requests, Jusuru now pays commissions via the Jusuru Debit Card, giving immediate access to earnings each month.
"We're pleased to see the success of our company," said President Asma Ishaq, "but even more pleased to see the success of our representatives as they are empowered to lead Jusuru's growth. We're proud to move Jusuru into the future with more growth and industry-notable recognition, and continuing to lead the nutritional industry in the way of joint and skin health, as well as an extraordinary culture of leadership."
Plans are already underway for next fall's third annual Rise to Enterprise 2012, which will be preceded by Jusuru Regional Training, with special guest speaker, Don Failla, author of The 45-Second Presentation that will Change Your Life, to be held in Palm Beach, FL, in February 2012.
Jusuru's flagship product is Jusuru Life Blend, a revolutionary liquid nutraceutical that promotes healthy aging, active joints and younger-looking skin. Its ingredients are all-natural, contain patented science and benefit many parts of the body. Jusuru Life Blend is the only product to contain a liquid form of BioCell Collagen, as well as resveratrol and the antioxidant power of 13 superfruits.
For more information, please visit http://www.jusuru.com.
###