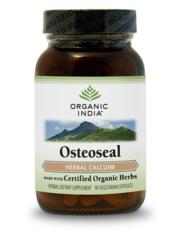 Boulder, CO (PRWEB) September 20, 2011
ORGANIC INDIA's new Osteoseal formula combines the healing properties of three herbs: Harjor (Cissus quadrangularis); Sahijan (Moringa pterygosperma); and Shatavri (Asparagus racemosus).
Harjor enhances healthy bone formation in people of all ages and accelerates fracture repair. Translated as "that which joins the bones," Harjor has been used in India for thousands of years. With high phytosterol content, Harjor contributes to the anabolic activity essential for bone repair. Additionally, Harjor is a powerful antioxidant that supports healthy inflammation response.
Sahijan is a complete nutritional supplement in itself, containing ample quantities of amino acids, calcium and potassium. In addition to providing vital nutrients for bone health, Sahijan also assists in maintaining a healthy immune system and promotes healthy inflammatory response.
Shatavri contributes by supporting healthy bones before, during and after menopause. A rich source of phytoestrogens, Shatavri is also an excellent adaptogen and protects against biological, physical and chemical stressors.
Together, these herbs form a highly efficacious formula that promotes bone health, provides vitamins and herbal calcium and optimizes the blood supply needed for strong, healthy bones.
ORGANIC INDIA's Osteoseal formula is available at http://organicindiausa.com/_product_5842/Osteoseal and in retail stores.
About ORGANIC INDIA
ORGANIC INDIA works with thousands of family farmers in India, cultivating tens of thousands of acres of certified organic farmland. The farmers are commissioned to grow organic crops, which ORGANIC INDIA purchases at a premium market price. ORGANIC INDIA supports their farmers by providing training, health care and education that enable them to be self-sufficient and to develop organic farming skills that will be passed on to future generations.
ORGANIC INDIA markets certified organic, biodynamic and ethically wildcrafted products throughout India, the United States, Israel, the United Kingdom, the Czech Republic, Japan and Australia. To purchase products or for more information, please visit http://www.organicindiausa.com.
###