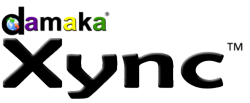 Xync now enables cloud based Microsoft Office 365 customers to go mobile
Richardson, Texas (PRWEB) September 19, 2011
Damaka®, a technology pioneer in Mobile Unified Communications and Collaboration (UCC), today announced its extension of Xync™ product suite to support Microsoft Office 365.
Office 365 Lync™ Online users can now download Xync product suite from the online stores and extend IM, Audio, and Video capabilities to their Smartphones and Tablets.
"Xync now enables cloud based Microsoft Office 365 customers to go mobile. Customers can now effectively collaborate and be more productive by utilizing Lync™ Online features on their mobile devices. As part of our vision of Mobile Unified Communication and Collaboration, we are continuing to expand Xync product line with soon to be released features like conferencing and application sharing," said Satish Gundabathula, CTO of Damaka.
Xync is a native SIP based software client that already extends features of Microsoft Lync to smartphones and tablets without having to install any additional hardware.
Xync client is available in Apple® App Store SM and Android™ Market.
About Damaka, Inc.
Damaka (http://www.damaka.com) is an innovator in mobile unified communication and collaboration (UCC) solutions. The company is changing the landscape of mobile UCC by providing secure, real-time mobile video calling and mobile collaboration solutions on all major smartphones, tablets and PC/MAC platforms, enabling collaboration on any device, any network, anytime and anywhere. Damaka's managed peer-to-peer SIP based software solutions feature Sweeping® technology, allowing users to seamlessly transfer in progress collaboration sessions to and from various devices, including laptops, netbooks, tablets and smartphones. Damaka was founded in 2004 and is headquartered in Richardson, Texas. For more information on Damaka's Xync solution, please visit http://xync.damaka.com.
Contact: Mrinal Rao
(972) 498-1303
xync.support(at)damaka(dot)net
###