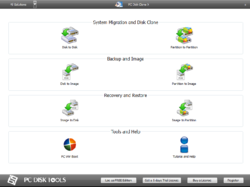 PC DISK CLONE X supplies the best solution for Windows Migration & Data Backup!
(PRWEB) September 20, 2011
A new software program has just launched that will allow people to create their own system backup in upcoming operating system.
PC DISK CLONE X has been designed and developed to offer customers a service which is proving to be invaluable to all that work on a computer. Providing a simple way in which individuals can back up and restore their important documents stored on their computer.
The various features of PC Disk Clone X cloning tool are thus hereby listed below:

Transfer between two disks or partitions:
While duplicating a hard drive, it may so happen that the size of the source and target disks or the partitions does not match. PC Disk Clone X can automatically adjust the disk or partition layout size at that instance. Example: transferring data between a 500 GB and 1 TB hard drive.

Transferring contents via image file:
PC Disk Clone X transfers contents from source disk to destination by creating an image files, so that no data is lost during the transmission. The process is termed as disk image backup.

Conversion of a partition to image and vice versa:
PC Disk Clone X offers the facility of backing up only system drives as an image file. This reduces the time and effort as during a system crash the use only needs to restore the system files as all other data files remain in good condition and can be easily backed up by certain back-up utilities.

This feature of PC Disk Clone X takes a snapshot of the entire source hard drive. It is done so as to ensure proper and error-less data transmission between two disks. It is a totally new concept in cloning hard drive to new hard drive.

Block selection during cloning:
Certain blocks of the hard drive are filled with data while others are not. This feature allows PC Disk Clone X to copy blocks or selected block depending upon user's choice thereby reducing the time involved in the transmission.

Creating Windows bootable disk:
PC Disk clone X contains PC Win Boot which can also be used to create a bootable disk for Windows OS.

Easy system management and migration:
While users duplicate a hard drive, all the windows settings, histories etc are kept intact by PC Disk Clone X.
With the introductions above, we can see what makes the drive clone software so unique is the fact that it comes with additional functions that are not normally provided with other software programs. Large drive to small drive, small drive to large drive can both be done. Disk layout and partition size are implicitly resized to match your target drive size.
Moreover, PC Win Boot, which is a Windows PE boot disk builder, is included and you don't need to pay extra fees to build your own custom boot disk. Moreover it supports all main Windows OS distributions.
PC DISK CLONE X free edition can also be downloaded with a professional version at an affordable cost this is an opportunity that will ensure the program is made available to all, businesses and individuals.
James Yi, developer and designer, states: "We feel it is our duty to offer the best service possible to show that we value the trust that is shown to us. PC Disk Clone X has a bunch of exclusive features. This is a complete tool that will provide people with a very effective and simple way in which they can back up and restore. Furthermore, PC Disk Clone X is completely compatible with Windows 8 developer preview Which means you don't have to purchase another software after the Windows 8 is released."
If you would like to know more about backup for windows and how to download Windows 8 developer preview, find out more by visiting the PC DISK TOOLS official website.
CONTACT:
Location: 6/F, No.3 Science Park East Avenue,
Hong Kong Science Park,
Shatin, N.T.,
Hong Kong
Tel: +85281975570
###