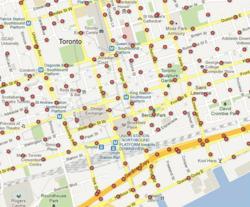 The instant access is important for people who make on-the-spot business location decisions.
Toronto, ON (PRWEB) September 21, 2011
Peoplecount announces the launch of GetTrafficCounts.com, a map-based, searchable website allowing instant access to over 15,000 Canadian 24-hour vehicle traffic counts. Crucial, on-the-spot business location decisions can now be made by retailers, real estate professionals, land developers and outdoor advertising suppliers. Users simply search for and select traffic count locations across Canada, complete the purchase using a major credit card or Paypal account, and instantly receive the data by email. There is no longer a need to negotiate complicated government websites and traffic departments and wait days or weeks for data to be sent out manually.
Peoplecount's traffic data base is adjusted to reflect an average day of the current year, "allowing customers to compare apples to apples", explains manager Mike Latka, adding "This is a great resource for anyone trying to compare potential retail or outdoor advertising locations." For large-scale projects, Peoplecount will quote discounted rates for bulk buys or even sell entire markets of data via its Traffikcounts map layers for GIS-enabled users.
"Pedestrian counts will be launched next for the major cities," notes Peoplecount President, Kelly McGillivray. "The two pieces of data together will be invaluable in all kinds of commercial, retail and marketing applications. The instant access is important for people who make on-the-spot business location decisions."
###