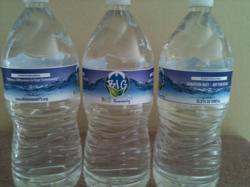 An average transport by ambulance costs $974.15
Southern California (PRWEB) September 21, 2011
B.I.G. Humanity is proud to recognize Mark Gallagher and Park Place Funding as an honored GOLD Tier Corporate Sponsor. Mark has donated 240 cases of Water showing continued support locally and for surrounding county facilities.
Southern California is among one of the most affluent places on earth. Yet we have a daunting problem right here in our own backyard that is adversely affecting at least 2.5 million homeless and economically disadvantaged people monthly, many of which are women and children.
The homeless and economically disadvantaged citizens among us do not always have the ability or access to shelter and escape from extreme heat or cold. Their constant exposure to the elements makes it very difficult for them to maintain healthy hydration levels and avoid complications. The inability to readily access clean drinking water and maintain life sustaining hydration can result in many ailments.
Sadly, a very high number of the emergency calls received in Southern California are directly related to complications and diseases exacerbated by dehydration among the economically disadvantaged citizens in our local neighborhoods. The costs of these emergency services are then passed on to the local taxpayers and tax-paying businesses.
B.I.G. Humanity's main goal is to help the community's economically disadvantaged population who may be at risk of more serious medical complications due to dehydration, while also minimizing the number of emergency calls to community city services and hospitals.
B.I.G. Humanity is actively working on a solution to this problem. Starting with our local 6 counties in Southern California, we have a provided a way to deliver water to those desperately in need, but we can't do this alone. We ask for and need your Help.
Through our Domestic Unity Campaign and the Southern California 2011 Holiday Water Giving Drive along with strategic corporate relationships we (together) will make a major difference. With the help of each of the Counties Continuum of Care (COC) administrators - over 330 local charitable organizations have registered with B.I.G. Humanity as the recipients of the 2011 Water Drive.
These facilities currently provide for more than 2.5 million people per month, all of which are working very hard to obtain life sustaining resources for those in need.
B.I.G. Humanity's vision, through the Domestic Unity Campaign, is to help those in need and sustain them with resources that no human should ever go without, starting here, starting with water.
###