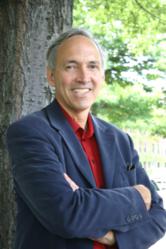 Zero-carbon homes are coming to production housing, meaning that large builders think that low-energy homes will give them an edge.
Tucson, Ariz. (PRWEB) September 23, 2011
The September 2011 issue of Wired magazine features a full-page interview with Jerry Yudelson, in which he's featured as the "Godfather of Green." The interview deal with Yudelson's views about the future of Zero Net Energy homes, which he views as the next major trend in homebuilding. Yudelson is the principal and founder of Yudelson Associates, a leading green building and sustainability consultant firm.
In the article, "The Zero-Carbon House: It's Just Around the Corner," by Nate Berg, Yudelson says, "Production housing is where it's getting interesting. The big home builders are starting to put on 2- or 3-kilowatt systems as a standard feature, and it's just part of the price of the house. There's no add-on cost. That's a real breakthrough."
In his seminars on zero-net-energy building, Yudelson shows how homes can be made to produce as much energy as they consume: first-cut energy use 75% or more below a standard or "code" home, then add up to 5 kilowatts of solar panels. The real trick, he says, "is to make the home so efficient that it can heat itself with internal loads such as lights and refrigerators and natural sunlight coming through highly efficient windows." In summer, Yudelson advocates using as much natural ventilation and external shading as possible, with trees and rolling shutters, even in hot climates such as Arizona, where, he says, "I can be very comfortable at an internal temperature of 78F, so long as there's no sun coming directly into the windows."
Yudelson says, "The real key is the windows. There's some revolutionary nanotechnology that's about to go into the glass—different kinds of coatings that make them five to 10 times more energy-efficient than even the best double-paned windows. These windows are almost as energy-efficient as walls." Yudelson is also very supportive of passive house design, especially the German Passiv Haus standard now being introduced into the U.S.
About Jerry Yudelson and Yudelson Associates
Yudelson Associates is a leading international firm in sustainability planning and green building consulting. The founder, Jerry Yudelson, is widely acknowledged as one of the nation's leading green building and sustainability consultants and is an internationally recognized keynote speaker. He is the author of 12 green building books and served for two years as Research Scholar for Real Estate Sustainability for the International Council of Shopping Centers, a 70,000-member international trade organization. He has been recognized as a National Peer Professional by the U.S. General Services Administration. Yudelson is a frequent green building speaker at industry and professional conferences and chaired the country's largest annual show, Greenbuild, for six years from 2004 through 2009.
For more information please contact Jerry Yudelson, 520-207-9759, jerry(at)greenbuildconsult(dot)com or visit http://www.greenbuildconsult.com.
###