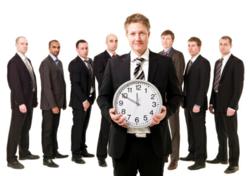 SharePoint users might welcome a ready to go SharePoint application that addresses one of the most common issues in any business: time tracking.
Cheltenham, England (PRWEB) September 23, 2011
SharePoint Specialists Pentalogic Technology have today announced the forthcoming release of their latest new product SharePoint TeamTime. TeamTime is an easy to use SharePoint timesheet and timetracking application. Pentalogic are inviting registration for a free trial now.
"We have been busy working on TeamTime all summer" says Pentalogic CTO and founder Ryan Wheeler "and now it's very nearly ready to go."
TeamTime is a native SharePoint application pre-built for users to simply add to their SharePoint site and start using with their teams.
It offers two methods of time entry:

either a punch card, to let users record time as its happening by stopping and starting a timer,
or a traditional grid or timesheet for users who prefer to enter time at the end of the day or week.
The team dashboard lets managers see who is working on what right now, and allows them to approve time already logged.
Powerful and customizable reports and analysis give an overview of work over time.
"TeamTime is a bit of a departure for us." Explains Wheeler "Up until now we have concentrated creating SharePoint components: tools that you can use to help you get more out of SharePoint when building your own sites, applications and dashboards."
"One of the great things about SharePoint is the ability it gives end users and power users to build their own applications." Wheeler continues "It can be great fun to see just what you can achieve with SharePoint and create something that is exactly tailored to your needs and your processes."
"But equally" he points out "sometimes you just need to quickly get your hands on something that just works and instantly solves your business problem, with no time or effort required from you."
Pentalogic's research into SharePoint End User Adoption demonstrated that getting a visible "quick win" with SharePoint: using SharePoint to rapidly and visibly address a business pain point can be one of the best ways of jump-starting user adoption of SharePoint.
"Our experience with SharePoint Vacation Planner taught us that sometimes users prefer to have someone else map SharePoint functionality on to business processes for them, rather than having to make that journey themselves." says Wheeler. "All this made us think that SharePoint users might welcome a ready to go SharePoint application that addresses one of the most common issues in any business: time tracking."
TeamTime has been built using a combination of out of the box SharePoint functionality and customized versions of Pentalogic's own web parts: PivotPoint and FilterPoint. "The development has provided us with some new challenges, particularly in the area of user interface design where we have had far more scope to express our creativity that we normally get when building components." explains lead developer Stuart Pegg "Working our own components in to TeamTime has also given us a fresh perspective on them and some improvements have resulted – watch this space for a new version of FilterPoint."
Pentalogic are now in the final stages of development and testing with TeamTime and expect to issue the software for sale in October.
"TeamTime will be priced in line with our other products" explains Wheeler "This is not "Enterprise software", it is intended to be affordable and pricing will be easy to follow and transparent."
In the meantime interested SharePoint users can register for a free 30 day trial.
About Pentalogic Technology
Pentalogic Technology is a privately owned and managed company based in Cheltenham England. Pentalogic build software for use with Microsoft SharePoint. Pentalogic's products are designed to enable SharePoint users to build rich applications in SharePoint, without the need for assistance from developers.
Founded in 2005 Pentalogic are one of the longest established companies in their marketplace. Pentalogic's developers have worked with SharePoint since its very earliest days.
Pentalogic's simple but powerful SharePoint tools are used by organizations around the world to enhance the functionality of SharePoint.
###