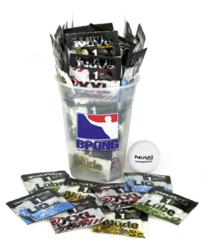 We both recognize the importance of promoting fun while maintaining a safe and responsible lifestyle for all young adults.
Las Vegas, Nevada (PRWEB) September 26, 2011
BPONG.COM, founder of the largest and longest running beer pong tournament in the world, is excited to announce that it has signed NuVo™ Condoms as a top-level sponsor of The Seventh Annual World Series of Beer Pong® (WSOBP VII). The event, which kicks-off New Year's Day, will be held at The Flamingo Hotel and Casino in Las Vegas from Jan. 1-5, 2012, paying $65,000 in prize money, including $50,000, to the winning team.
"We are pleased to have the NuVo Brand aboard as a top sponsor this year," said Billy Gaines, Co-founder of BPONG.COM. "There is great synergy between the two companies since we are both fast growing organizations targeting a predominantly college-educated, male audience. We both recognize the importance of promoting fun while maintaining a safe and responsible lifestyle for all young adults."
NuVo Condoms and BPONG.COM are both strong advocates of upholding safety in all aspects of fun from nightlife to safe sex to drinking responsibly. NuVo Condoms deploys a number of grass roots programs to get the word out about having fun in a safe and responsible manner, and the sponsorship with BPONG.COM helps reinforce this message to a large audience of young adults. While both companies market predominantly to men, females make up roughly 15 percent of their customer base.
"We are excited to sponsor the World Series of Beer Pong, as it's consistent with our marketing program, which calls for putting ad dollars as close to the consumer as possible," said Ben Isaacs, Vice President of NV Healthcare, which owns NuVo Condoms. "The big win is this sponsorship gives us a great audience to spread the word about the positive aspects of condom use. NuVo has been working with BPONG.COM for about a year, first testing involvement at a Satellite Tournament™ in Hollywood. The NuVo brand and message were so well received, we decided to up the ante and get involved with the main event. As part of our sponsorship we will be distributing NuVo condoms to all players throughout the week, and offering a free condom to spectators to increase awareness and usage."
Sign-ups are currently underway for the Seventh Annual World Series of Beer Pong. Player packages start at $450 per person, and include a four-night hotel stay plus a guaranteed 12 games over two days. Players can register online at http://www.bpong.com. A range of sponsorship opportunities are also still available, including the coveted "Official Beer of the World Series of Beer Pong." Interested companies can email sponsorship@bpong.com to request more information.
About NuVo Condoms
NuVo Condoms is the new challenger brand that is making a bang in the condom industry. The urban, edgy packaging promotes NuVo's message of having a positive, fun yet responsible approach to sexuality and sexual relationships. NuVo is committed to making an impact on unwanted teen pregnancy and the recent rise in STD's by making condoms available to anyone who needs them at a competitive price. NuVo offers four unique varieties of products including: Lube, Nude, XXL and LIQuid. NuVo will hit stores nationwide in early spring 2012, but can be purchased now in regional retail drug chains and online at drugstore.com and amazon.com. NuVo Condoms are manufactured by NV Healthcare, LLC. For information, visit http://www.NuVocondoms.com.
About BPONG.COM
The WSOBP is the largest organized beer pong tournament in the world, created by Las Vegas-based BPONG.COM. The company's website is the Center of the Beer Pong Universe™, providing a center for collaboration and discussion about the sport of beer pong. Last year's WSOBP event drew over 1,000 participants from 48 U.S. states/districts, six Canadian provinces, and nine countries. For more information about the sport and other Satellite Tournaments visit http://www.bpong.com.
# # #