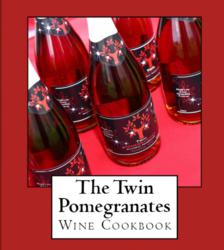 "The Pomegranate Fusion Meatloaf is a favorite. We love this comfort food already, and adding the pomegranate twist was delicious."- Brian Davis
Madera, CA (PRWEB) September 26, 2011
Twin Pomegranates Wine recently partnered with Gina Meyers, a well known author of unique themed cookbooks, to make a cookbook filled with all things pomegranate wine. The Twin Pomegranates Wine Cookbook features appealing appetizers, mouthwatering main dishes, cheery cocktails, and delightful desserts.
Author and Chef Gina Meyer's goal in life is, "to reignite the spark of imagination by getting people back into the kitchen creating meals together and conversing. One on one connection of people simply sitting down and enjoying a meal together seems to be lost." She met Nick and Brian Davis (co-owners of Twin Pomegranates Wine) and was ""very impressed with their initiative to start a wine company with a twist (pomegranates) in the Fresno-Madera area." They began working together shortly after meeting, and the end product was a tasty cookbook filled with pomegranate recipes.
"We instantly were in when she approached us about making a cookbook with our wine. We have dabbled with a few recipes ourselves, but having a professional come in and work her magic in the kitchen with our wine was amazing. The Pomegranate Fusion Meatloaf is a favorite. We love this comfort food already, and adding the pomegranate twist was delicious. Aside from the delicious food recipes, Gina also packed the book with tasty drink recipes featuring our pomegranate wines. I am a huge fan Pomegranate Peach Sangria," said Brian Davis,Co-owner.
Twin Pomegranates Wine makes four incomparable wines: a 100% Pomegranate Table Wine, Pomegranate White Wine Blend and a 100% Pomegranate Sparkling Wine, and a dessert wine "Sweetie." The cookbook can be purchased on Amazon.com. For more information on Twin Pomegranates Wine please visit http://twinpomegranates.com or contact Tori Sampson Public Relations Director at tori(at)twinpoms(dot)com.
About Twin Pomegranates Wine
Twin Pomegranates Wine was started in 2008, by twins Nick and Brian Davis. Born and raised in California's Central Valley, they are fourth generation farmers. The Davis family began farming over 80 years ago and today grows primarily wine grapes, almonds, and pomegranates in the heart of California's agricultural mecca, the San Joaquin Valley. They are a small production winery and their wines are made from 100% California grown pomegranates. Twin Pomegranates Wine believes it is important to maintain the value and integrity of the fruit to maintain the beauty and health benefits for which the pomegranate is well known.
About Gina Meyers
Gina Meyers is regarded as a top-notch author of unique themed cookbooks such as the best-selling Love At First Bite, The Unofficial Twilight Cookbook, The Magic of Bewitched Cookbook, and The Unofficial
Harry Potter Cookbook: Muggles To Magic (Gina writes under the pen name, Gina Ferrari too). She has appeared on hundreds of television and radio shows and in a multitude magazines as an authority on cooking, television, popular culture, television trivia, and marketing trends. Gina has been a consultant for Nickelodeon Network; Nick at Nite, and Columbia Pictures Television. Gina has worked for the Xerox Corporation as well as online giant, Google. Gina is also the owner of Serendipity Media Group, a full-service marketing, promotions, and publishing firm.
###