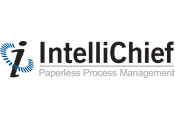 ...as 2012 budgets are being submitted for approval, more and more professionals are making electronic document management part of their plans
Mansfield, MA (PRWEB) September 27, 2011
IntelliChief LLC, the leading provider of document management and document imaging solutions for the IBM I (System i, iSeries, AS/400), reports record interest for their document management solutions in Q3 2011. Finance professionals are requesting IntelliChief's ROI analysis and custom solution design at a rapid pace not previously seen. IntelliChief is predicting document management adoption levels in Q1 2012 to be higher than ever before.
As the slow economy continues to weigh on businesses, companies are looking earnestly for operational efficiencies that will have a lasting impact on their bottom line in 2012. Paper and all of its related printing and storage costs is an area where efficiency can rapidly lead to significant costs savings.
"For companies that have included a document management project in their 2011 budgets, they are aiming to use these allocated resources by the end of the year, and as 2012 budgets are being submitted for approval, more and more professionals are making electronic document management part of their plans," said Brian Smith, IntelliChief Director of Marketing.
IntelliChief attributes company mandates to become more efficient and reduce expenses as a major contributing factor to the product inquiry growth they are experiencing. Companies can learn more about IntelliChief document management solutions by requesting an IntelliChief whitepaper, product demonstration, ROI analysis, and solution design at http://www.intellichief.com.
About IntelliChief, LLC
IntelliChief, is the leading provider of Paperless Process Management (PPM) solutions for the IBM i (System i, iSeries, AS/400) Enterprise. With decades of expertise in the market and seamless integration with leading ERP software vendors, IntelliChief enables companies of all sizes to go paperless with a typical ROI of less than one year. Users can create, capture, manage, archive, retrieve, and distribute mission-critical documents directly from their familiar ERP screens, eliminating the need for filing cabinets, storage facilities, fax machines, copiers, and paper files.
# # #