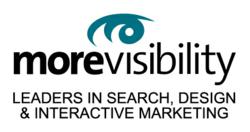 (PRWEB) September 28, 2011
MoreVisibility, one of the world's largest and most experienced interactive advertising agencies, today announced that they have partnered with WOMMA to present a Webinar on Maximizing and Integrating Website Analytics.
MoreVisibility is a proven industry expert in Online Marketing and Web Analytics and has been recognized as an official Google Analytics Certified Partner (GACP), one of only a select few agencies to have been awarded this partnership. The company prides itself on educating the online marketing industry on the importance of using analytics data to drive business decisions to improve ROI. This expertise provides a valuable resource for members of WOMMA to benefit from MoreVisibility's commitment to provide relevant, timely and valuable industry education to members of the marketing community.
Hosted by EVP Danielle Leitch, and Director of Web Intelligence Joe Teixeira, the 60-minute Webinar titled, "Conversion Rate is Dead: Long Live Meaningful Metrics, Real Insights & Actual Analysis!" will take place on Wednesday September 28, 2011 at Noon (est), and cover the following:
1. Understanding the implications of using conversion rate as a barometer for online success
2. Becoming aware of different metrics that can measure success better than conversion rate, and how to apply that knowledge on their own web analytics tool(s).
3. Learning how to dodge common web analytics pitfalls to maximize their data mining efforts.
4. Being able to see the value of incorporating offline / internal / "tribal" data in their web analytics tool, and the detriments of not doing so
"In the high-growth landscape of web and mobile search, it's more important than ever to effectively measure your advertising dollars, marketing/PR efforts and customer behavior. Leveraging the data available in analytics is invaluable and can maximize your ROI while providing critical insight on campaign effectiveness. We're excited to partner with the WOMMA community on this thought-provoking session" offers Danielle Leitch.
For more information on the webinar and to register, click here.
About MoreVisibility
Founded in 1999, MoreVisibility is one of the world's leading Search Engine Marketing, Optimization and Design firms, having helped hundreds of Fortune 1000 companies and small businesses increase qualified traffic to their Web sites. In 2005, 2006, 2007, 2008, 2009 and 2010 MoreVisibility was named to the Inc 500/Inc 5000 list of the nation's fastest growing privately owned firms. MoreVisibility is a Google AdWords Certified Partner, Google Analytics Certified Partner and a member of the MSN Search Council.
MoreVisibility boasts high client retention through a team of 30 senior professionals who deliver superior performance and measurable results. Notable clients served include Direct Marketing Association (DMA), Children's Hospital of Philadelphia, The Metropolitan Museum of Art, Dairy Council of California, RSM McGladrey, The Mayo Clinic, Travel Nevada, Ritz Carlton Residential Suites and Clemson University. The company is based in Boca Raton, Fla., and can be found on the web at http://www.MoreVisibility.com.
###