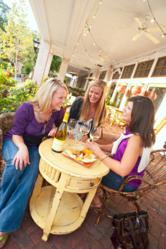 Florida's Emerald Coast was named Best Fall Trips 2011, voted by National Geographic, and the Destin area, where Sandestin is located was named one of the 10 Most Beautiful Places in America
Destin, FL (PRWEB) September 28, 2011
Sandestin Golf and Beach Resort, the #1 resort on Florida's beautiful Emerald Coast, today announced a new Florida Girlfriend Getaways Package to meet the growing travel needs of women.
The Sandestin Girlfriend Getaways Package offers fun from the beach to the bay at this top rated beach resort in Florida. This new package includes deluxe accommodations (with full kitchen, dining area, living room and more), breakfast, a massage, a pedicure, a bottle of wine, complimentary fitness center, bike rentals and more, and a VIP Shopping Welcome Gift from nearby Silver Sands Factory Stores, the largest designer outlet center in the nation, which includes special surprises from select Silver Sands designer stores, a free Platinum Rewards Coupon Book worth over $800 in savings, and a limited edition Donna Burgess print.
AAA has reported that girlfriend getaways are growing in popularity, in part because American women feel the need to a well needed break from their personal and professional responsibilities. Getaways ease stress, and have become an important part of women's lives.
AAA also reported that the leading reasons women want to take a girlfriend getaway is to bond with friends or family (70 percent) and to escape from their daily responsibilities (65 percent). The most popular activities while on a girlfriend getaway are dining out (86 percent), shopping (74 percent), spa visits (73 percent) and going to the beach or pool (70 percent). The AAA findings also conclude that the most difficult aspects of planning a girlfriend getaway are finding a time that works for everyone (77 percent) and selecting a trip that fits everyone's budget (76 percent).
Sandestin Golf and Beach Resort eliminates some of those budget barriers by offering this creative package for rates starting at only $139 a night – with a minimum two night stay required – price is per person, based on quad occupancy for a 2 bedroom bayside villa. Visit http://www.sandestin.com/ExploreSandestin/Deals/GirlfriendGetaways.aspx or call 1-866-91-BEACH for complete details. Ask for promo code: GIRLS.
Glorious temperatures are just the beginning of everything there is to love about Sandestin. This fall for example, there's no better time to relax and play at Sandestin's beach and resort. The Sandestin Girlfriend Getaways Package can also be planned around some of the Florida coast's most fun and exciting events.
Check out the options at http://www.sandestin.com/SpecialEvents.aspx for these seasonal special events and activities including:
Sandestin's Baytowne Wharf Beer Festival
When: October 21- 22, 2011
Where: The Village of Baytowne Wharf
Trick or Treat Street and Fun for All Ages at Baytowne
When: October 31, 2011; 6 – 8 p.m.
Where: The Village of Baytowne Wharf
The Taste of the Beach after Dark
When: November 5
Where: Sandestin's Beach Pool and Finz Beachside Grille
Sandestin's Christmas on the Coast Activities
When: November 25 – December 18
Where: The Sandestin area and The Village of Baytowne Wharf
As a further incentive, Florida's Emerald Coast was named Best Fall Trips 2011, voted by National Geographic, and the Destin area, where Sandestin is located was named one of the 10 Most Beautiful Places in America, by ABC-TV's Good Morning America.
About Sandestin Golf and Beach Resort
Sandestin Golf and Beach Resort was named the #1 resort on Florida's Emerald Coast. The resort invites guests to a world of 2,400 acres and 30 charming neighborhoods featuring 1,400 Destin vacation rentals, condominiums, town homes and villas. As a member of Visit South Walton, the resort features more than seven miles of beaches and pristine bay front, four championship golf courses, 15 world-class tennis courts, 19 swimming pools, a 98-slip marina, a fitness center and spa, meeting space and The Village of Baytowne Wharf, a pedestrian village with shopping, dining and nightlife.
###