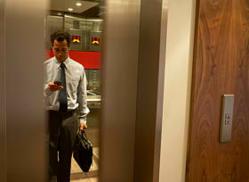 Designing an effective and efficient smartphone user interface isn't an easy task.
Redwood City, CA (PRWEB) September 29, 2011
Imagine arriving late in the afternoon for a business meeting in an unfamiliar town and needing to find the nearest fast food really really fast. The newly released QuickClick Locale apps from Marketimpacts.com can do it in as little as one button click.
There are QuickClick apps for a number of focused needs, including:

Restaurants
Fast Food
Health Food
Coffee
Nightlife
Gas Stations
ATMs
Lodging
Taxis
Golf
Autos
RVs
Mail
Parking
Shopping
"As smartphone apps grow in complexity, many have become cumbersome and challenging to use, especially under time pressure" said Don Cowan, the lead QuickClick apps developer and Director of Software Engineering at Marketimpacts.com. "We designed these apps to be easily managed by any smartphone user."
"Designing an effective and efficient smartphone user interface isn't an easy task. You're dealing with a limited physical space, the fat-thumb syndrome that can cause incorrect clicks, the need to make it aesthetically attractive, and many other factors," said Cowan. "We did extensive testing in focus groups and the field so that we could perfect the interface."
According to statistics on the Android Developers Console, downloads of the QuickClick apps are growing at a rate of 30% month over month and they have been installed in over 50 countries.
QuickClick Apps are available for download on the Android Market and more information can be found on the QuickClick Apps web page. To find the apps from a smartphone or tablet, search the Android Market for "QuickClick Apps".
The Marketimpacts.com team develops software for smartphones, tablets and PCs.
Marketimpacts, QuickClick and Locale are trademarks of Arelinda Technology Group, Inc.
For more information, visit http://www.marketimpacts.com.
# # #