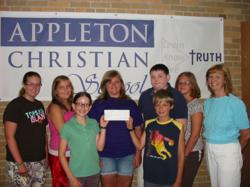 Wonderful example of what today's teachers are teaching our young future leaders
Sussex, Wisconsin (PRWEB) September 30, 2011
When teacher Ann Wittman's "Explore Program: Reaching for the Stars" business class had to set up a business, The Top 10 Variety Store, where the children produced home made items such as beaded bracelets, headbands, magnets, paper flowers, and comic strips, was an easy decision. Deciding what to do with the profits, however became a bit of a debate.
"The business gave the students a wonderful opportunity to experience first hand the many decisions that need to be made when starting a business, road blocks to work around, team work as well as all the intricacies that come from having a business," said Wittman. "One of the questions that needed to be answered was what to do with the profit from the business. The students discussed several possible recipients (one of which was themselves)."
One of the students reminded the class that there are people in need and eventually the students decided to donate their profits evenly amongst four different causes.
"One of the top four recipients was to aid Japan," said Wittman. "Specifically how this was to be done was left up to me, the teacher, because the school year had come to an end. I believe I heard of CannedWater4kids (CW4K) on a local news station. It tied in not only in giving relief to Japan, but our 3rd quarter Explore Program with the 3rd and 4th graders was on clean water and the diseases etc. that people incur when there is a lack of clean drinking water. So I looked your site up their website and the rest is history."
While Wittman wishes they could have donated more than the $75 the class allocated for CW4K, the money is appreciated by Greg Stromberg, President and Founder of CW4K who has worked tirelessly with Second Harvest of Japan to provide safe drinking water for those in need following earthquake.
"Every contribution to CW4K, large or small, helps someone in need get safe drinking water," said Stromberg. "The fact that these children thought to use their money to help others instead of themselves is a positive sign for the future and means a lot to our organization."
CannedWater4kids is a 501 c3 non-profit initiative to generate awareness and fund projects to purify water for children in developing nations. It is estimated that 5,000 children die each day world-wide as a result of unsafe drinking water. Proceeds from CannedWater4kids are used to support numerous efforts to provide access to clean drinking water throughout the world; 95 cents of each dollar donated go directly to fund clean water initiatives across the globe. For more information go to http://www.cannedwater4kids.org.
###