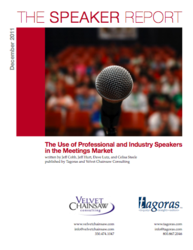 We anticipate that higher demands will be placed on organizations and speakers in the coming years.
Carrboro, NC (PRWEB) December 15, 2011
A new report released by Tagoras and Velvet Chainsaw Consulting provides detailed data and insights on how trade and professional associations make use of professional speakers and industry experts at their events. Titled The Speaker Report: The Use of Professional and Industry Speakers in the Meetings Market, the free report draws on responses from 247 participants in a survey conducted by Tagoras and Velvet Chainsaw earlier this year. Some of the key findings include:
*Educational impact is not being taken seriously
Only 41.9 percent of survey respondents measure whether learning occurs at their major meeting, and only 7.6 percent conduct post-session assessments or follow-ups.
*Calls for speakers close too early for timely content
While meeting attendees continually rate timely content as a priority, 62.5 percent of organizations indicated they close their calls for proposals eight or more months before the meeting.
*Live video streaming of speakers has yet to really take off
Member travel and education budgets continue to be tight, but only about 20 percent of the organizations surveyed offer live video streaming of all or some of their keynote sessions at their major meeting, and less than 17 percent do so for their concurrent sessions.
*Organizations are satisfied
An overwhelming 97.9 percent of survey respondents said they are very or somewhat satisfied with their meetings overall, and 97.2 rated their meetings as very or somewhat successful.
"While associations hold many excellent and valuable events," said Tagoras managing director Celisa Steele, "the data suggests that there may be a disconnect between current and future attendee needs and what organizations are doing. We anticipate that higher demands will be placed on organizations and speakers in the coming years."
To learn more about the report's findings, visit http://www.tagoras.com/catalog/speaker-report/ to download a free copy. (No payment or e-mail address required.)
Tagoras provides independent research and consulting to help organizations maximize the reach, revenue, and impact of their educational offerings. Its clients have included the National Association of Corporate Directors, the International City/County Managers Association, the Healthcare Financial Management Association, the National Institute of Governmental Purchasing, Nurses Improving Care for Healthsystem Elders (NICHE), Booke Seminars (a Division of Aon), Advanced Energy, and CASTLE Worldwide.
# # #