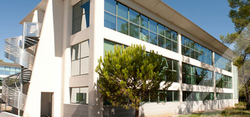 Our new presence in France will help accelerate our penetration of the E.U. life science space.
San Diego, CA (PRWEB) February 7, 2011
San Diego based Audacity, a life science focused strategic branding agency, today announced the opening of its new location in Sophia Antipolis, France.
"Audacity is proud to be expanding in Europe" said Belgian born Gaetan Fraikin, Chief and founder of Audacity, Inc. "We have a range of European clients in our portfolio, and having a local presence will help better serve them. Sophia Antipolis is the largest technology cluster in Europe with over 1,400 organizations spread across 6,000 acres in the beautiful Nice and Cannes back country. Life science is well represented in Sophia Antipolis with leaders in pharmaceuticals, medical instruments, medical imaging and biotechnology."
"Our presence in France will also enable us to better serve our US clients with branding and communications localization solutions for their EU markets. And the same is true for our EU clients looking to expand their activities and revenues in the US," said Fraikin.
For more information
Gaetan Fraikin
Audacity Chief // CEO
Audacity, Inc.
http://www.audacitygroup.com
(858) 385-0664
pr(at)audacitygroup(dot)com
About Audacity
Audacity is the only branding agency that builds high-performance life science brands, based on radical differentiation and simplification by: 1. focusing on life sciences, 2. combining business strategy with exceptional creativity, and 3. defeating conformism.
Audacity focuses on medical imaging, biotechnologies, genetics/genomics and medical devices. Our solutions include brand research, brand positioning and architecture, naming, design, corporate identity, branded experience, brand management and brand tracking for both traditional and digital media. We also excel in brand launch, brand refresh and merger or IPO preparation.
Current/past clients include leaders in medical imaging, medical instruments, biotech, genetics and genomics, including Siemens, Digirad, Positron, Samsung, Illumina, Kodak and Sony.
To learn more about Audacity and its strategic branding solutions, call 858-385-0664 or visit to http://www.audacitygroup.com.
# # #