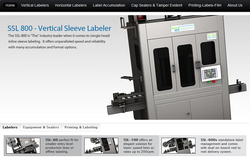 Sleeve Seal offers state-of-the-art sleeve labelers, shrink labelers, steam tunnels, and label printing technology.
Little Rock, Arkansas (PRWEB) January 17, 2011
Sleeve Seal, a GC Evans Sales & Mfg. company, originated on the premise of "sole source" supply for Shrink Labeling needs. Located in Little Rock, Arkansas, and with interests in South America and Asia, Sleeve Seal is ready to serve you at home and abroad. Expanding on the GC Evans history of customer service first, Sleeve Seal can be counted upon for delivering the finest products for your every need in Shrink Labeling.
Sleeve Seal has recently partnered with 3wiredesigns.com, a leading Arkansas webdesign and multi-media company to expand their online visibility and to promote their full line of sleeve labelers, shrink labelers, shrink sleeves, shrink labels, and horizontal sleeve labelers. Sleeve Seal also handles label printing, ops labels, pvc labels, pet labels, petg labels, shrink film, and shrink label printing. Sleeve Seal boasts a full range of steam tunnels, shrink tunnels, and infrared tunnels to compliment their printing capabilities.
Sleeve Seal also manufactures their own materials in order to maintain complete control over the quality of their product. This also ensures price competitiveness because they are the supply chain.
Their 10 color Rotogravure printing allows them to print the highest quality vibrant labels available in the industry today. Their process also allows for both glossy and matte finishes or a combination on the same label. Another service they offer, is to provide all the necessary steps to get your artwork from the drawing board to the label distortion, absolutely free.
# # #