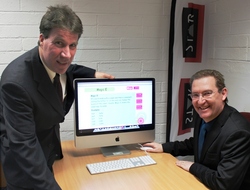 Being dyslexic myself I see the great benefit this game can bring.
Dublin, Ireland (PRWEB) April 10, 2011
Developed by Claire McNelis a Digital Media graduate in Galway, "Spelling Rules" was created as an online game that would teach spelling rules in a way that was simple and accessible for dyslexic people without being too academic.
STAR Technology Solutions the translation agency is proud to announce that it has sponsored the game and made the free game available online.
Site : http://www.star-ts.com/spelling-rules.shtml
With close to 10 years experience providing professional translation services from its offices in Dublin STAR is delighted to be able to help Claire with the advancement and promotion of the game.
Paul Quigley Director of STAR speaking on behalf of the company states,
"Being dyslexic myself I see the great benefit this game can bring. As part of our investment in Corporate Social Responsibility it's great to be able to give something back that genuinely solves a problem I can associate with. "
About STAR Technology Solutions
STAR Technology Solutions is a translation agency based in Dublin Ireland. It delivers translation and document translation services to clients around the globe in over 40 languages. STAR helps its clients do more business internationally by providing the website translation, technical translation and document services they require to communicate worldwide.
STAR Translation Services – Confidence in a Translated World.
STAR TS: ISO 9001:2008 Certified Translation Provider
Contact:
Damian Scattergood
Managing Director
Damian.Scattergood [a] star-ts.com
STAR Technology Solutions
Docklands Innovation Park,
128-130 East Wall Road,
Dublin 3, Ireland
Phone + 353 1 8365614
Web: http://www.star-ts.com
###